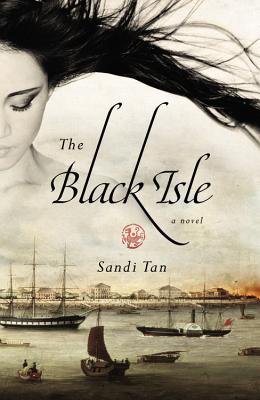 The Black Isle (Hardcover)
Grand Central Publishing, 9780446563925, 472pp.
Publication Date: August 7, 2012
* Individual store prices may vary.
or
Not Currently Available for Direct Purchase
Description
There are ghosts on the Black Isle.
Ghosts that no one can see.
No one...except Cassandra.

Uprooted from Shanghai with her father and twin brother, young Cassandra finds the Black Isle's bustling, immigrant-filled seaport, swampy jungle, and grand rubber plantations a sharp contrast to the city of her childhood. And she soon makes another discovery: the Black Isle is swarming with ghosts.

Haunted and lonely, Cassandra at first tries to ignore her ability to see the restless apparitions that drift down the street and crouch in cold corners at school. Yet despite her struggles with these spirits, Cassandra comes to love her troubled new home. And soon, she attracts the notice of a dangerously charismatic man.

Even as she becomes a fearless young woman, the Isle's dark forces won't let her go. War is looming, and Cassandra wonders if her unique gift might be her beloved island's only chance for salvation . . .

Taking readers from the 1920s, through the Japanese occupation during WWII, to the Isle's radical transformation into a gleaming cosmopolitan city, THE BLACK ISLE is a sweeping epic--a deeply imagined, fiercely original tale from a vibrant new voice in fiction.
About the Author
Sandi Tan was born in Singapore and has an MFA in screenwriting from Columbia University. Her short films have been shown around the world at venues such as the New York Film Festival, Clermont-Ferrand, MoMA, and on European television. She lives in Pasadena, California, with her husband, the critic John Powers, and their bossy Siamese, Nico. You can visit her website at www.SandiTan.com.

THE BLACK ISLE is her debut novel.
Praise For The Black Isle…
"The Black Isle is an elegant, disturbing and satisfying read, both epic and intimate."
-The Los Angeles Times

"Beautifully written, with a storyline that spans 70 years, The Black Isle is a historical novel that is both breathtaking and haunting. The characters are vivid - some simply charming, some horrifyingly scary - and the plot has so many twists and turns it seems as though you're reading a winding country road....The Black Isle is an engaging and engrossing novel that will absolutely captivate you and should not be missed. It will take you on a journey you will not soon forget."
-The Philadelphia Inquirer

"An ambitious, supernatural coming-of-age story... With its paranormal-meets-goth sensibility and angsty, flawed-but-fierce heroine, The Black Isle is a natural fit for the Twilight crowd."
-The LA Times

"Tan constructs a debut novel that is beautifully written yet deeply disturbing. Gritty and intensely erotic, it grips readers with Cassandra's visions while pushing them away with the brutality of her life. Not a story for the faint of heart, it will engage those looking for a gothic depiction of WWII in Asia and the ghosts that haunt us."
-Library Journal

"Destined to be among summer's sleeper hits is filmmaker Sandi Tan's gulpable first novel,The Black Isle."
-Vogue.com

"Mesmerizing . . . a gripping historical novel . . . Tan's imagination seems boundless."
-Publishers Weekly (Pick of the Week)

"A cinematically epic ghost story."
-Kirkus Reviews

"Tan reveals a rich imagination and a lush style in this first novel...riveting...will sweep readers into the action."
-Booklist

"On The Black Isle, a young woman grows old with the Twentieth Century, haunting her own life as history conspires to render her a secret. Sweeping in scope, impressively imagined, ruthlessly readable."
-Steve Erickson, author of These Dreams of You

"Rich in vivid characters, and written with great imagination and intelligence, The Black Isle is a remarkable novel. A haunting book, mesmerizing in its beauty, which stayed with me long after I finished the last page."
-Judith Freeman, author of The Long Embrace and Red Water

"The narrator of The Black Isle recounts her tales of fantastic events -- erotic, supernatural, horrific -- so convincingly that Tarot cards might as well be baseball cards in her book. An irresistible feat of storytelling, The Black Isle blends what Midnight's Children did for the former Bombay with what Dorothy did for Oz."
-Tom Carson, author of Gilligan's Wake and Daisy Buchanan's Daughter
Book Videos
Advertisement