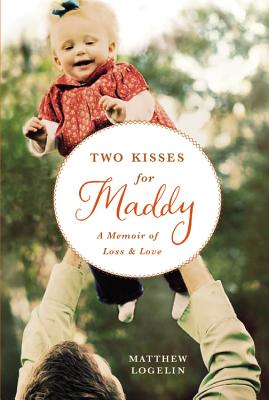 Two Kisses for Maddy
A Memoir of Loss & Love
Hardcover

* Individual store prices may vary.
Other Editions of This Title:
CD-Audio (4/14/2011)
Description
Matt Logelin writes a courageous and searingly honest memoir about the first year of his life following the birth of his daughter and the death of his wife.

Matt and Liz Logelin were high school sweethearts. After years of long-distance dating, the pair finally settled together in Los Angeles, and they had it all: a perfect marriage, a gorgeous new home, and a baby girl on the way. Liz's pregnancy was rocky, but they welcomed Madeline, beautiful and healthy, into the world. Just twenty-seven hours later, Liz suffered a pulmonary embolism and died instantly, without ever holding the daughter whose arrival she had so eagerly awaited.

Though confronted with devastating grief and the responsibilities of a new and single father, Matt did not surrender to devastation; he chose to keep moving forward-to make a life for Maddy.

In this memoir, Matt shares bittersweet and often humorous anecdotes of his courtship and marriage to Liz; of relying on his newborn daughter for the support that she unknowingly provided; and of the extraordinary online community of strangers who have become his friends. In honoring Liz's legacy, heartache has become solace.


Praise For Two Kisses for Maddy: A Memoir of Loss & Love…
"Heartbreaking, raw, moving and uplifting at the same time." -The Hollywood Reporter

"A tender memoir that combines the deep sadness of loss with the joys of parenthood even under incredibly trying circumstances." -Kirkus Reviews

"In Matthew Logelin's honest and poignant story, we learn a great many lessons about the fragility of life, and about the strength we all can summon to move forward. With two kisses and an open heart, he shows how love can sustain us." -Jeffrey Zaslow, New York Times bestselling coauthor of THE LAST LECTURE

"TWO KISSES FOR MADDY is less a conscious piece of writing than a spontaneous eruption from the heart. It will make you cry but not only out of sadness. Some of your tears will be for the beauty of love and its miraculous power to heal even the deepest wounds." -John Grogan, New York Times bestselling author of MARLEY & ME

"No one wants to read a depressing book. But how can you possibly call depressing what is so filled with love and life and the unstoppable message of how lucky we are to have what we have. Read this book and put your life back in perspective." -Brad Meltzer, New York Times bestselling author of HEROES FOR MY SON

"Almost unparalleled as a raw and unapologetic portrait of grief, TWO KISSES FOR MADDY is a stunning testimony of the kind of love-- fated, magnificent-- that inspires novels. So vivid, so powerful and pitch-perfect, is his evocation of his beloved Liz that I could hear her laughter and see her face for days after putting the book down." -Claire Fontaine, national bestselling author of COME BACK

"A touching, heartbreaking, and ultimately triumphant story. It offers hope, humor, and a path toward new life, and a priceless lesson about the value of communication in times of trouble." -Jim Beaver, author of LIFE'S THAT WAY and SAG award nominee for Deadwood

"You won't feel the slightest bit of pity for this unintended single father. You'll be cheering Matt Logelin on page after page, laughing and crying with him-- and falling in love with Madeline." -Christine Coppa, author of RATTLED!
Grand Central Publishing, 9780446564304, 272pp.
Publication Date: April 14, 2011
About the Author
Born and bred in Minnesota, Matt Logelin was a project manager at Yahoo! until he left the company to focus on writing this book and raising his daughter, Madeline. The two live in Los Angeles, traveling often to see as much of the world as possible. Please visit them at www.mattlogelin.com
Book Videos
or
Not Currently Available for Direct Purchase