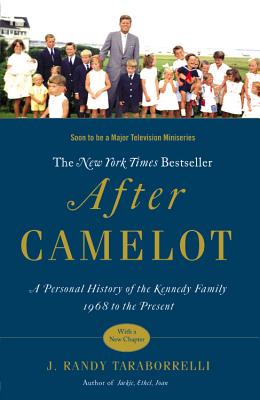 After Camelot (Paperback)
A Personal History of the Kennedy Family 1968 to the Present
Grand Central Publishing, 9780446564649, 618pp.
Publication Date: April 23, 2013
Description
From the New York Times bestselling author of Jackie, Ethel, Joan - Women of Camelot, comes an engrossing and revealing portrait of the next generation of Kennedys - now with a new chapter. For more than half a century, Americans have been captivated by the Kennedys - their joy and heartbreak, tragedy and triumph, the dark side and the remarkable achievements. In this ambitious and sweeping account, J. Randy Taraborrelli continues the family chronicle begun with his bestselling Jackie, Ethel, Joan: Women of Camelot and provides a behind-the-scenes look at the years "after Camelot." He describes the challenges Bobby's children faced as they grew into adulthood; Eunice and Sargent Shriver's remarkable philanthropic work; the sudden death of JFK JR; and the stoicism and grace of his sister Caroline. He also brings into clear focus the complex and intriguing story of Ted Kennedy and shows how he influenced the sensibilities of the next generation and challenged them to uphold the Kennedy name. Based on extensive research, including hundreds of exclusive interviews, After Camelot captures the wealth, glamour, and fortitude for which the Kennedys are so well known. With this book, Taraborrelli takes readers on an epic journey as he unfolds the ongoing saga of the nation's most famous -- and controversial -- family.
About the Author
J. Randy Taraborrelli is a respected journalist, a recognizable entertainment personality, and in-demand guest on many television programs including Today, Good Morning America, The Early Show, Entertainment Tonight, and CNN Headline News. He is the bestselling author of thirteen books.
Praise For After Camelot: A Personal History of the Kennedy Family 1968 to the Present…
"Meticulous multilayered details breathe life into remarkable recreations of family gatherings throughout this superb "fly on the wall" survey of the Camelot clan."

"Taraborrelli keeps readers deeply engaged with a comfortable, almost novelistic style...Taraborrelli shows what makes the Kennedy legacy so enduring. His book, not aimed at academics, will appeal both to those long fascinated with the Kennedys and those new to following them, as well as readers more generally interested in American political and social history over these years."

"An absorbing history of a remarkable family."

"A page-turning, emotionally riveting saga."
Advertisement