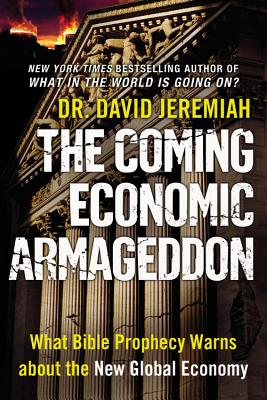 The Coming Economic Armageddon: What Bible Prophecy Warns about the New Global Economy (Hardcover)
What Bible Prophecy Warns about the New Global Economy
FaithWords, 9780446565943, 320pp.
Publication Date: October 1, 2010
* Individual store prices may vary.
or
Not Currently Available for Direct Purchase
Description
Never before have we read such jarring headlines, distressing news analyses, or dire predictions concerning the world's financial future. The American housing market -- or, more sentimentally, the American dream -- began to collapse in 2006, taking with it large chunks of the global financial system. Millions of jobs worldwide have vanished forever. Did Bible prophecy predict this catastrophe? Are there biblical clues to how soon, if ever, a viable, long-term recovery can be sustained? Is the financial collapse just one of several signs that we are living in the final days of Earth's history In THE COMING ECONOMIC ARMAGEDDON, David Jeremiah says we can know the meaning behind what we see in the daily news -- and understand and prepare for living in the New Global Economy.
About the Author
Dr. David Jeremiah is the founder of Turning Point Ministries, a nonprofit organization devoted to "delivering the unchanging Word of God to an ever-changing world." A pastor's son born in Toledo, Ohio, he graduated from Dallas Theological Seminary and received his doctorate from Cedarville College. David and his wife, Donna, have four children and ten grandchildren, and live in San Diego.
Praise For The Coming Economic Armageddon: What Bible Prophecy Warns about the New Global Economy…
"A clear, compelling primer on God's heart for Israel and the dramatic Bible prophecies that will unfold in these last days. What I loved most is that David Jeremiah unashamedly examines and explains the biggest global trends of our day through the Third Lens of Scripture. And his description of Jesus' unconditional love and compassion for Jews and Muslims is alone worth the read!"—Joel C. Rosenberg, New York Times best-selling author, The Last Jihad and Epicenter: Why the Current Rumblings in the Middle East Will Change Your World on What in the World Is Going On?
Advertisement