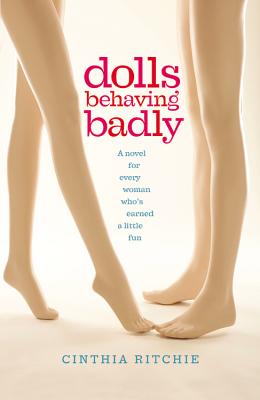 Dolls Behaving Badly (Paperback)
Grand Central Publishing, 9780446568135, 352pp.
Publication Date: February 5, 2013
* Individual store prices may vary.
Description
Carla Richards is a lot of things. She's a waitress at Anchorage's premier dining establishment, Mexico in an Igloo; an artist who secretly makes erotic dolls for extra income; a divorcée who can't quite detach from her ex-husband; and a single mom trying to support her gifted eight-year-old son, her pregnant sister, and her babysitter-turned-resident-teenager.

She's one overdue bill away from completely losing control-when inspiration strikes in the form of a TV personality. Now she's scribbling away in a diary, flirting with an anthropologist, and making appointments with a credit counselor.

Still, getting her life and dreams back on track is difficult. Is perfection really within reach? Or will she wind up with something even better?

About the Author
Cinthia Ritchie is a former features writer and columnist for the Anchorage Daily News and a Pushcart Prize nominee. Her writing has been published in New York Times Magazine, Water-Stone Review, Memoir, and other publications. She lives in Anchorage with her family.
Praise For Dolls Behaving Badly…
"Cinthia Ritchie is a courageous and thoroughly passionate writer. Her unflinching prose will not be denied."—Ronald Spatz, Editor Alaska Quarterly Review

"Cinthia Ritchie is a writer of unusual passions and unusual vision. She allows the world to flow through her and onto the page in prose that is breathless, intimate, and brutally, perfectly honest."—Sherry Simpson, The Way Winter Comes

"Reader, you hold in your hands a novel so true and heartfelt you'll want to buy it for everyone you know."—Jo-Ann Mapson, author of Bad Girl Creek and Finding Casey

"Despite, or perhaps because of, her very human flaws, Carla is a character who is easy to love, and her journal is an engaging read."—Kirkus Reviews

"Ritchie's tale of female triumph makes for a fun read."—Publishers Weekly

"Girlfriends, guys, ghosts, and G-spots. Cinthia Ritchie's tale . . . left me simultaneously wishing I had been born female and thanking God that I was not."—Rich Chiappone, author of Water of an Undetermined Depth

"Alaska is the perfectly wild setting for this story of oddball characters trying to build creative lives around improvised family. The narrator's young son will surely steal your heart."—Nancy Lord, former Alaska Writer Laureate, author of Early Warming

"An out-of-the-ordinary setting and cast of characters are the backbone of Ritchie's compelling debut novel...Ritchie depicts her characters' often bleak circumstances with humor and grace, and Carla makes for an atypical but eminently sympathetic heroine."—Booklist

"First-time novelist Ritchie writes engaging characters and creates a sense of place that brings Alaska to life. For the reader of women's fiction who can handle a bit of the risqué."—Library Journal
or
Not Currently Available for Direct Purchase