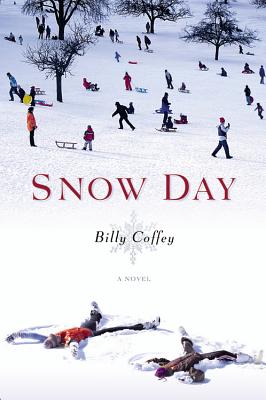 Snow Day (Hardcover)
Faithwords, 9780446568265, 195pp.
Publication Date: October 11, 2010
* Individual store prices may vary.
or
Not Currently Available for Direct Purchase
Description
In this debut novel, Peter is a simple man who lives by a simple truth--a person gains strength by leaning on his constants. To him, those constants are the factory where he works, the family he loves, and the God who sustains him. But when news of job cuts comes against the backdrop of an unexpected snowstorm, his life becomes filled with far more doubts than certainties.
With humor and a gift for storytelling, Billy Coffey brings you along as he spends his snow day encountering family, friends, and strangers of his small Virginia town. All have had their own battles with life's storms. Some have found redemption. Others are still seeking it. But each one offers a piece to the puzzle of why we must sometimes suffer loss, and each one will help Peter find a greater truth--our lives are made beautiful not by our big moments, but our little ones.
About the Author
Billy and his wife, Joanne, live with their two children in the foothills of Virginia's Blue Ridge Mountains. A product of his small-town locale, Billy counts as assets his rural authenticity, unwavering sense of purpose, and insatiable curiosity--all of which tend to make his front porch a comfortably crowded place.
Praise For Snow Day…
"This is a gentle read and a sure bet with its
even pacing, descriptive language, and humor. Look for more by this talented
author in the future."

"SNOW DAY is the kind of book you savor, then read again. Simple, yet profound. Spare, but beautiful. I loved this book."

"Everybody needs a snow day! To slow down and take a breath of what really is important."

"With SNOW DAY, Billy offers
further proof that the blogger-turned-author
is a trend we've barely touched on. Honest, insightful, and packed with the
writing people fell in love with online, SNOW DAY makes me proud to be a
blogger."

"Billy Coffey has a way of writing that draws you into his story, which then allows you to find yourself in it. In this book he'll encourage you to pay attention, to laugh, and to wonder."

"Author Billy Coffey weaves a poignant and poetic tale of a man rediscovering his faith and purpose. Told with charm and humor, SNOW DAY reveals how unexpected detours, 'chance' encounters, and everyday experiences lead to life's most valuable insights."

"Set against a Blue Ridge Mountain backdrop, peopled with a colorful cast, and seasoned with small-town Southern charm, Billy Coffey's SNOW DAY will make readers want to live aware--to discover the divine in ordinary places among common folk. Each chapter is a story in itself, a jewel sparkling with wisdom. Strung together, the shimmering strand adorns simple truth: Life may be hard, but God is good. Detours happen by design. One way or another, the road leads home. So pay attention. Laugh. Wonder. And, sweet fancy Moses, don't forget to pick up the bread and milk."

"SNOW DAY invites readers to shift into slow gear and engage in people's lives. Through the narrator's charming, disarming personality, I'm reminded how important it is to ask good questions, listen closely, and see beyond the surface talk into a person's heart and soul. Billy Coffey has created a town full of winsome, appealing characters with strengths and struggles, faith and foibles-they're so realistic, I wish I could pick up and move to that fictional town in Virginia in order to get to know them better. But the message of this novel is that no matter where we live, those people and their insights are all around us; meaningful stories are just waiting to be told. All we need to do is slow down enough to pay attention . . .all we need is one good snow day."
Advertisement