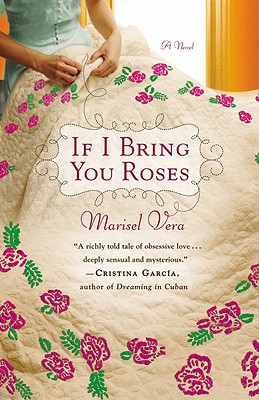 If I Bring You Roses (Paperback)
Grand Central Publishing, 9780446571531, 368pp.
Publication Date: August 3, 2011
* Individual store prices may vary.
Description
"I believe in Spirits," Felicidad said.

"I believe in making love," said Aníbal.


In a small town in Puerto Rico, Felicidad Hidalgo spends her days serving busybodies in her aunt's bakery, and her nights dreaming of home. Closing her eyes she can almost hear the sweet songs of tree frogs, reminding her of the mountain village of her childhood, and the family she hasn't seen in nearly a decade. Her new life in town has delivered her from poverty, but not from loneliness-until the afternoon Aníbal walks through the door.

Aníbal Acevedo is not in need of a wife, but when he meets Felicidad while visiting family, he is stunned by the power of his attraction. Almost before he realizes what's happening, he has taken the girl into his bed and into his home-in Chicago. Yet soon the young lovers discover that married life is anything but idyllic. Can they find the courage to overcome the obstacles and temptations of their new world and rediscover the passion they once shared? Or will each find love and redemption in the arms of another?

"Everything you want in a novel-flawed, complicated characters, lush descriptions, breathtaking plot, and a fierce beating heart."

-Tayari Jones, award-winning author

"A deeply felt and satisfying tale that brings attention to the courage required to sustain hope, love, and passion as a stranger in a new land."

-Jonis Agee, award-winning author
About the Author
Marisel Vera lives near Chicago, Illinois with her husband and children. Two of her short stories won the Willow Review literary magazine's fiction prize in 2000 and 2003.

Praise For If I Bring You Roses…
"If I Bring You Roses is more than a love story powerfully and insightfully told. It is also a story about how class and ethnic discrimination impact relationships between men and women. The message is important; the writing is masterful...I highly recommend this book to readers interested in romance grounded in reality, in Latina culture, in civil and human rights for all people regardless of gender, race or ethnicity and to readers who are just interested in reading a really good, engrossing book."—Midwest Book Review

"A sensual and well-crafted story about courage and passion that brims with vivid descriptions and characters."—The Network Journal

"Marisel Vera is a gifted storyteller with an eye for the subtle motions of the human heart as it struggles with the disturbances of desire. This is a deeply felt and satisfying tale that brings attention to the courage required to sustain hope, love, and passion as a stranger in a new land. Vera understands her characters and brings them to us with lyric intensity, humor, and perfect pitch so that they live in us long after the last page is closed."—Award-winning author Jonis Agee

"If I Bring You Roses has everything you want in a novel-- flawed complicated characters, lush descriptions, breathtaking plot, and a fierce beating heart. With this brillant novel she at once excavates history, while weaving a story that is entirely new. With this amazing debut, Marisel Vera has burst onto the literary scene. I am eager to see what she writes next."—Tayari Jones, author of Silver Sparrow