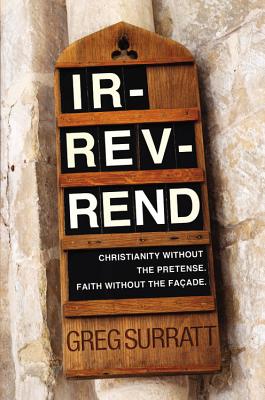 Ir-rev-rend (Hardcover)
Christianity Without the Pretense. Faith Without the Facade.
Faithwords, 9780446572125, 205pp.
Publication Date: September 28, 2011
* Individual store prices may vary.
or
Not Currently Available for Direct Purchase
Description
Ir-rev-rend (ir REV rund) noun
1. a pastor who is somewhat critical of what is generally accepted or respected
2. a pastor who is trying to make sense of life, love, the church and other confusing things from a slightly satirical point of view; an irreverent sense of humor.
3. a "normal" guy pursuing God
Whatever you may think about the "typical" pastor, throw it out. Do they make bad decisions? Yes. Commit sin and experience severed relationships? Yes and yes. Pastor Greg Surratt is not perfect, and he unashamedly tells the stories that have strengthened his faith. He writes that the choice to follow Christ is never clean, is often scary, is usually clothed in mystery, and is always an adventure.
For some people, God appears in dark, dirty, lonely, or just plain odd places. Greg found God while huddled under a grand piano, hiding from overzealous friends and family trying to accost him during an altar call at a Pentecostal revival. So began a life of sharing stories of God's endlessly creative and often surprising work and seeing God's transforming power in unexpected ways. Despite years of vocational ministry, Greg never underestimates the power of divine/human encounters in some of teh least "churchy' places on earth.
Humorous, insightful, and challenging, IR-REV-REND is a revealing and joyous look at real-life Christian living. As Greg himself affirms, if God can use his missteps and blunders, God can use anybody's.
About the Author
Greg Surratt is the founding pastor of Seacoast Church (www.seacoast.org), a trendsetting, multisite church. An Oklahoma native who grew up in Colorado, he now lives in Mt. Pleasant, South Carolina, with his wife, Debbie. They have four children and nine grandchildren. You can find out more about Greg on his blog at www.gregsurratt.com or on Facebook at www.Facebook.com/pastorgregsurratt.
Praise For Ir-rev-rend: Christianity Without the Pretense. Faith Without the Facade.…
"Pastor of a successful megachurch in Mt. Pleasant, S.C., Surratt has written an accessible, engaging, and down-to-earth memoir that shows him to be an adept writer of a plain-spoken, colloquial variety. Divided into chapters titled "calling," "doubt," "mistakes," "sex," and "power," each conveys a teachable moment in which an unexpected turn of events becomes an opportunity to learn what Surratt believes is a lesson from God. Typically, these involve insights about humility, discipline, or forgiveness. The book's title notwithstanding, Surratt is far from an irreverent reverend. A Pentecostal preacher's son, he has chosen a well-trod path within the evangelical non-denominational subculture, one that precludes premarital sex and sees hell as a tangible terminus for many. Perhaps what's most distinctive about Surratt is his level-headedness, his ability to own up to his emotions, and his knack for not prejudging others. Fans of his Seacoast Church, known for its 14 locations across the larger Charleston region, will appreciate his straight-talking approach."—Publishers Weekly, 2011

"I can tell you this: Greg Surratt is one of the good guys. He communicates by telling stories--natural, unpretentious, useful parables of real faith."—Bob Buford, Founder and Chairman, Leadership Network and author of Halftime

"IR-REV-REND is a refreshing read. Greg Surratt's ability to tell a story is uncanny. His life-changing wisdom and sidesplitting humor will keep you captivated."—Craig Groeschel, Life Church TV

"In a world where most people think they gain credibility by hiding their imperfections, Greg Surratt turns that myth on its head with IR-REV-REND. Hang on for the ride because there are bumps, but they are really great bumps."—Phil Cooke, Media consultant, filmmaker, and author of Jolt

"To those tired of the plastic, shallow spirituality, IR-REV-REND is for you. Read it and you will be impacted in profound ways."—Darrin Patrick, Pastor of Journey Church in St. Louis and Author of Church Planter

"Greg Surratt is really qualified to write this book. He is sincere, humble and without pretense."—Brady Boyd, New Life Church, Colorado Springs, Colorado and Author of Fear No Evil

"The laughing brain engages more than the bored brain. Prepare to laugh, learn, and grow by reading Greg Surratt's true life tales of family, marriage, church and leadership in IR-REV-REND. I couldn't put it down."—Dave Travis, Managing Director of Leadership Network and co-author of Beyond Megachurch Myths

"Greg Surratt's stories of faith and ministry will leave you wanting more, and not just more of Greg's stories, but also more of the God behind the stories."—Larry Osborne, Author and pastor, North Coast Church, Vista, CA

" IR-REV-REND is a delightful adventure shown through a prism of honesty and conviction through which the joys of serving the Lord are made so much clearer."—Matthew Barnett, Co-founder of the Dream Center

"Greg Surratt is one of the most life-giving and wise leaders I know. He brings that insight and wisdom to this terrific book."—Jud Wilhite, senior pastor at Central Christian Church in Las Vegas, NV, and author of Throw It Down

"There are books and there are books that matter and make a difference. This is absolutely one that matters and makes a difference."—Brent Rowan, producer, musician, composer

"Oh my gosh! Put down everything else and read this book. You will laugh through it, cry through it, fly through it--you won't be able to put it down. It's delightful--vintage Surratt!"—Michael Fletcher, senior pastor, Manna Church, Fayetteville, NC

"This compelling book will inspire you to live your own brand of ir-rev-rence."—Joe Champion, pastor at Celebration Church, and author of Rocked

"This book is a lot like him: honest, funny, and entertaining, and at the same time, powerful, poignant and thought provoking."—John Siebeling, Lead Pastor, The Life Church of Memphis

"Greg Surratt is one of the great pastors in the modern day church. This book is a must read. Thanks Greg for sharing it with us all."—Jonathan Falwell, Pastor, Thomas Road Baptist Church, Lynchburg, VA

"This is a book with long legs that people will be talking about for years."—Ron Hall, author of Same Kind of Different as Me

"Blatantly honest, refreshingly authentic, and continually comedic."—Pete Wilson, founding senior pastor at Cross Point Church in Nashville, TN

"With a knack for storytelling and penetrating insights, this book will make you laugh, think and reflect. It doesn't hurt that it's a lot of fun to read!"—Mike Breen, 3DM Global Team Leader

"IR-REV-REND was very entertaining and yet challenging at the same time. It draws you in and it is hard to put down."—Martha K. Fry, minister of creative arts, C3 Church

"IR-REV-REND will challenge the way you live out your faith--all while putting a grin on your face."—Ed Stetzer, vice president of research and ministry development for LifeWay Christian Resources

"I get the chance to hang with a lot of Pastors and there are very few that I know who are as 'real' as Greg Surratt. You will find this book refreshingly honest and encouraging. Everyone needs an 'Ir-Rev-Rend' in their life."—Mark Batterson, pastor at National Community Church, and author of In a Pit with a Lion on a Snowy Day

"IR-REV-REND will push you to a place of real, raw life-changing faith."—Steven Furtick, pastor at Elevation Church, and author of Sun Stand Still

"Greg Surratt is one of the most effective pastors I've met building a church and then sending it out to minister in the community. A great model. He shares a lot of his common sense, down to earth wisdom in this book. Good advice for the church, and a good read."—Chuck Colson, founder of Prison Fellowship
Advertisement