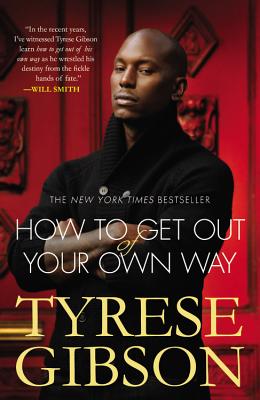 How to Get Out of Your Own Way (Paperback)
Grand Central Publishing, 9780446572231, 304pp.
Publication Date: May 8, 2012
Other Editions of This Title:
Hardcover (4/7/2011)
* Individual store prices may vary.
Description

HOW TO GET OUT OF YOUR OWN WAY is organized into a series of fundamental questions that helped Tyrese redefine who he was as a human being, and evolve into a new man. Tyrese stresses that life becomes infinitely richer when one takes the time to know him or herself and understand the true meaning of peace and fulfillment. This book is a guide to helping yourself, using his experiences as a learning tool. "It's not about talking down to people, it's about elevating them," Tyrese says.

Some of Tyrese's chapter-based questions include: How much do you love yourself? How much do you want for yourself? Why do men cheat? What is your bottom line? Are you ready for the next level?

Quotes and Reviews:

"An uplifting and inspirational guide." -Kirkus Reviews

"Tyrese wholeheartedly shares his life experiences and how he discovered a new road map of conscious compassion and love to define his true potential." --Deepak Chopra, author of The Soul of Leadership

"HOW TO GET OUT OF YOUR OWN WAY is a triumph. Tyrese will shock and amaze you with how he overcame the odds and became a superstar. This star of the Transformers sequel will show you how to transform your life in this amazingly candid book!" --Rev Run

"I've watched Tyrese for many years - I've watched him succeed; I've watched him fail; I've seen him as a beneficiary of serendipity, and I've watched him suffer at his own hand. And in the recent years, as we've become friends, I've witnessed Tyrese Gibson learn how to get out of his own way as he wrestled his destiny from the fickle hands of fate." --Will Smith

About the Author
Tyrese Gibson-known to his legions of fans as "Tyrese"-is an American multi-media entertainer who has been hugely successful as a multi-platinum and Grammy-nominated R&B singer, songwriter, rapper, actor, and fashion model.

Born and raised in the gritty South Central L.A. section of Watts, Tyrese was discovered at the age of fourteen when he won a local talent show. His performance in a 1995 Coke commercial, singing the phrase "Always Coca-Cola," led to worldwide recognition and a longstanding music career. After releasing several award-winning albums, he transitioned into films, first with John Singleton's critically acclaimed Baby Boy, followed by some of Hollywood's biggest movies, including 2 Fast 2 Furious, Four Brothers and Michael Bay's Transformers. Tyrese created the bestselling comic book Mayhem and produced the television show First In.
He is currently working on his sixth studio album.
Praise For How to Get Out of Your Own Way…
"An uplifting and inspirational guide." -Kirkus Reviews

"Tyrese wholeheartedly shares his life experiences and how he discovered a new road map of conscious compassion and love to define his true potential." --Deepak Chopra, author of The Soul of Leadership

"HOW TO GET OUT OF YOUR OWN WAY is a triumph. Tyrese will shock and amaze you with how he overcame the odds and became a superstar. This star of the Transformers sequel will show you how to transform your life in this amazingly candid book!" --Rev Run

"I've watched Tyrese for many years - I've watched him succeed; I've watched him fail; I've seen him as a beneficiary of serendipity, and I've watched him suffer at his own hand. And in the recent years, as we've become friends, I've witnessed Tyrese Gibson learn how to get out of his own way as he wrestled his destiny from the fickle hands of fate." --Will Smith