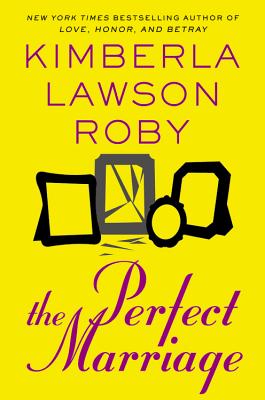 The Perfect Marriage (Hardcover)
Grand Central Publishing, 9780446572507, 192pp.
Publication Date: January 8, 2013
Other Editions of This Title:
Digital Audiobook (1/7/2013)
Paperback (9/10/2013)
Compact Disc (1/1/2013)
Compact Disc (4/16/2013)
Pre-Recorded Audio Player (2/1/2013)
Hardcover, Large Print (1/8/2013)
* Individual store prices may vary.
Description
The New York Times bestselling novel from the author of the Reverend Curtis Black series...

ADDICTION. DECEPTION.
PRETTY PICTURES HIDE UGLY SECRETS.

Denise and Derrek Shaw are the perfect American couple. Happily married for fifteen years, they have a wonderful daughter, Mackenzie, successful careers, and a beautiful home in a posh Chicago suburb. They are attractive, respected . . . and hiding a shocking secret: a dangerous addiction to drugs.

It started innocently enough. Denise occasionally used prescription drugs to help her deal with the long hours and demanding nature of her job. Derrek, also under pressure at work, began using cocaine socially with some of his colleagues.

They can quit whenever they want to. At least, that's what Denise would like to believe . . .

As her job becomes more stressful, Denise can no longer get through the day without a fix. Derrek realizes his harmless habit has become anything but, and desperately wants to get clean. However, his attempts are derailed when there is a sudden family tragedy. Once soul mates, now this husband and wife are quickly losing the immense love that had been the cornerstone of their marriage. With her parents spiraling out of control, Mackenzie makes an unexpected move to take matters into her own hands. Is her sacrifice too late-or is there still hope? Is there a final chance to save the Shaw family?
About the Author
Kimberla Lawson Roby is the New York Times bestselling author of the highly acclaimed Reverend Curtis Black Series. She lives with her husband in Rockford, Illinois.

Email: kim@kimroby.com
Facebook.com/kimberlalawsonroby
Twitter.com/KimberlaLRoby
Instagram.com/kimberlalawsonroby
Periscope.com/kimberlalawsonroby


Praise For The Perfect Marriage…
"An exciting page-turner!"—
www.upscalemagazine.com on SECRET OBSESSION
"Juicy read!"—
Essence on SECRET OBSESSION
"The kind of novel I wish more authors would write...addictive. Made me think, made me wonder. A novel well worth reading."—
chicklitreviews.com on SECRET OBSESSION
"
New York Times
best-selling author Kimberla Lawson Roby has a knack for writing suspenseful, page-turning stories, and her latest novel,
Secret Obsession
, is no different... A must-read for fiction thriller fans."—
TheRoot.com on SECRET OBSESSION
"4 Stars! Roby is the queen of redemption! She has a knack for taking characters that readers love to hate and turning them into ones everyone will cheer for. This one's definitely a page-turner!"—
RT Book Reviews on SECRET OBSESSION
"Filled with unexpected twists and turns. A dramatic, engaging, and entertaining piece of work."—
Prominence Magazine on SECRET OBSESSION
"The lengths Paige goes to...sure keep the pages turning...so much fun...Fans of Roby's Curtis Black novels will find this one true to form."—
Booklist on SECRET OBSESSION"
Lively, action packed and full of sassy sensuality, Roby once again has created a story that grabs the reader's attention and holds it until the very end."—
Las Vegas Review on LOVE, HONOR AND BETRAY"Love, Honor and Betray
is an entertaining read and remains true to Roby's style of creatively telling a story."—
The New York Amsterdam News on LOVE, HONOR AND BETRAY
"Lively, action-packed, and full of sassy sensuality, Roby once again has created a story that grabs the reader's attention and holds it in her grip until the very end."—
Corpus Christi Caller-Times on LOVE, HONOR AND BETRAY
"Kimberla Lawson Roby weaves truth into fiction."—
Indianapolis Star
"Roby [deals] with real issues in her novels."—
Ft. Lauderdale Sun-Sentinel
"Roby's fiction...[addresses] issues that are important to women today."—
Memphis Commercial Appeal
"Kimberla Lawson Roby has reached a pinnacle most writers only dream of."—
Rockford Register Star
"Roby, a bestselling author with a devoted audience, knows well the recipe for success: equal parts heartbreak and romance, with liberal dashes of sexual satisfaction."—
San Jose Mercury News
"Kimberla's writing is magical."—
Lolita Files, author of Scenes from a Sistah
"For those thousands of fans, who can't get enough of the 'good' reverend and his wives, this is a book that should not be missed."—
Philly.com on LOVE, HONOR, AND BETRAY
or
Not Currently Available for Direct Purchase