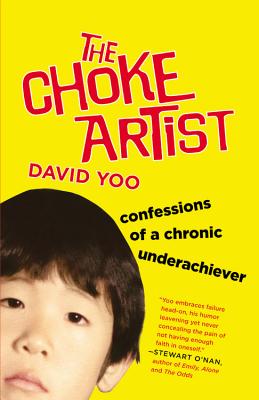 The Choke Artist: Confessions of a Chronic Underachiever (Paperback)
Confessions of a Chronic Underachiever
Grand Central Publishing, 9780446573450, 258pp.
Publication Date: June 19, 2012
Description
In this brutally honest collection of often cringe-inducing episodes, David Yoo perfectly captures the cycle of failure and fear from childhood through adulthood. Whether he's wearing four layers of clothing to artificially beef up his slim frame, routinely testing highlighters against his forearm to see if he indeed has yellow skin, or preemptively sabotaging promising relationships to avoid being compared to former boyfriends, Yoo celebrates and skewers the insecurities of anxious people everywhere.
About the Author
David Yoo is the author of two YA novels, Girls for Breakfast (Delacorte, 2005) and Stop Me If You've Heard This One Before (Hyperion, 2008). They have received numerous awards including NYPL Best Book Teen Age Selection and Chicago Public Library's "Best of the Best." His fiction and non-fiction have been published in various journals, he writes a monthly column called "The World According to Dave," for Koream Journal, the largest Asian American magazine in the U.S.
Praise For The Choke Artist: Confessions of a Chronic Underachiever…
"THE CHOKE ARTIST is brilliantly sneaky. David Yoo is so funny that sometimes you forget he's writing about his (and America's) deepest, most basic fears. In a country that worships success, failure is taboo. Yoo embraces it head-on, his humor leavening yet never concealing the pain of not having enough faith in oneself."
-Stewart O'Nan, author of Emily, Alone and The Odds

I loved this book and couldn't put it down! It's raw, startling, laugh-out-loud funny-and ultimately about the irrepressible human spirit.
-Amy Chua, Yale Law Professor and author of Battle Hymn of the Tiger Mother

"An admitted rug-humping, shrimpy, underachieving choke artist, David Yoo confesses his deepest darkest, hilariously unattractive and sadly relatable truths. And in turn, sets us all free."
-Hilary Winston, author of My Boyfriend Wrote a Book About Me and writer for Community and Happy Endings

"Reading THE CHOKE ARTIST is like watching someone get kicked in the nuts-in a good way. Yoo makes us laugh and wince and relive the horrific, hilarious agony of being young."
-Annie Choi, author of Happy Birthday or Whatever

[Starred review] Yoo (Stop Me If You've Heard This One Before) is a gifted YA novelist and comic writer who, by his own recollection, has spent his entire life purposefully underachieving in important moments. From struggles with popularity in kindergarten, to the delicate social battles of high school, to the development of his writing career, Yoo has repeatedly self-sabotaged while on the cusp of potential success. But just as readers are ready to dismiss him as a perennial screw-up, he deftly brings his experiences back to the rawness of his family struggles and he articulates that rarest of memoir experiences: a truly poignant, unexpected epiphany. Yoo shares his stories with candor, and the range of topics-sexuality, work, sibling rivalry, body image issues, and ethnic identity-means readers will never get bored. The essays are well-paced, the delivery is always punchy, and Yoo makes for a sympathetic protagonist. Though at times the themes feel repetitive, it is really more that (like all things in life) his issues overlap. In exorcising these demons, Yoo has crafted a fantastic memoir that will have readers laughing throughout.
-Publisher's Weekly

Yoo, author of two successful young-adult novels, now proves himself adept, as well, at the autobiographical essay, as this collection of 10 such pieces amply demonstrates. Set mainly during his college years at Skidmore and the 20 years that follow, the essays offer a self-image as a diffident, self-deprecating, well, choke artist, who is positively gifted at snatching defeat from the jaws of victory. Yoo is what he wryly calls "that rarity, the underachieving Asian-American" (he's Korean). This manifests itself in various ways: getting bad grades in school, choosing to lose at tennis while appearing to be trying to win, being the last to learn the truth about his preternaturally cheerful college roommate, etc. The book takes on a poignant air when he writes about his failed relationship with his father and concludes with the most interesting essay in the book, about the frustrations of trying to become a writer while working-almost permanently-as a temp! Sometimes a bit slow, this crossover title nevertheless succeeds in its portrait of the author as a young (choke) artist.

-Booklist
Advertisement