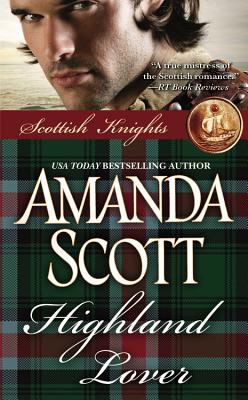 Highland Lover (Scottish Knights #3) (Paperback)
Forever, 9780446574327, 400pp.
Publication Date: April 1, 2012
* Individual store prices may vary.
Description
HIGHLAND DANGER

Ever inquisitive, Lady Alyson MacGillivray embarks on a sea voyage and makes a shocking discovery: The young future king of Scotland is secretly traveling on board. Yet her surprise soon turns to terror when pirates attack the ship, take the boy prince hostage, and leave Lady Alyson to drown.

HIGHLAND WOLF

Known to the world as the The Wolf, Captain Jake Maxwell had been commissioned by the King to follow the prince's secret transport. When he spies Alyson struggling against a violent sea, he moves swiftly to save her. Soon desire sparks between them, bringing them pleasure-powerful and deep. But the young beauty's connection to the prince's abduction puts her in danger. And if their love is to survive, Alyson and Jake must play a game of intrigue with royal-and lethal-consequences.


"One of the best Scottish historical romance authors writing today."

-Midwest Book Review
About the Author
Amanda Scott is a
USA Today
bestselling and award-winning author. She has won the Romance Writers of America's RITA/Golden Medallion awards and both a Career Achievement Award and
the Reviewers' Choice
Award for Best Scottish Historical
from
Romantic Times.
She began writing on a dare from her husband. That resulted in her first book,
The Fugitive Heiress
. HIGHLAND LOVER is her fifty-seventh book.
Amanda is a fourth-generation Californian who was born and raised in Salinas. She has a bachelor's degree in history from Mills College in Oakland and a master's in history from San Jose State University. She has long specialized in British history and is a fellow of the Society of Antiquaries of Scotland. Amanda lives with her husband in northern California and has a married son, who is a firefighter.
You can learn more at:
amandascottauthor.com
.
Praise For Highland Lover (Scottish Knights #3)…
"Infusing her characters with passion, courage, and often a wry sense of humor, Scott (
Highland Hero
) brings all the violence, splendor, and wicked machinations of medieval Scotland (and England when necessary) to vivid life in a thrilling story that makes good use of historical events and characters. Guaranteed to please."—
Library Journal on HIGHLAND LOVER
"4 1/2 stars, Top Pick! The last of the Scottish Knights trilogy is Scott's reward to her fans. The exquisite, yet subtle portrayal of her characters, coupled with their budding romance, hastens the reader's emotional involvement with the novel. Excellent melding of historical events and people into the sensuous love story greatly enhances an excellent read. "—
RT Book Reviews on HIGHLAND LOVER
"TOP PICK! Scott's story is a tautly written, fast-paced tale of political intrigue and treachery that's beautifully interwoven with history. Strong characters with deep emotions and a high degree of sensuality make this a story to relish."—
RT Book Reviews on HIGHLAND HERO
"Amanda Scott has done it again - provided us with an exciting, adventurous tale set in
Scotland
."—
Romance Reviews Magazine on HIGHLAND HERO
"Her colorful characters and their inter-relationships will absorb readers, while her plotting, dialogue and narration are also excellent. She's a true master of the Scottish historical romance."—
Romance Reviews Today on HIGHLAND HERO
"The settings and cultural feel authentic; readers who appreciate history will be sucked right in."—
Wickedly Bookish on HIGHLAND HERO
"As always in an Amanda Scott historical the inclusion of real persona and facts enhances the romance; while treachery and betrayal are a normal part of the court."—
Harriet Klausner on HIGHLAND HERO
"Great with sensual scenes, Scott excapes the cliche of a masterful male taming a 'wildcat' woman; instead, Fin and Catriona learn to communicate and compromise in this solid roomantic adventure....Scott...deftly handles period dialogue and attitudes."—
Publishers Weekly on HIGHLAND MASTER
"Marvelous Scottish tale of a time in history when various plays for power were held....a piece of history as well as a great tale. Amanda Scott does it again with another fascinating part of Scottish history."—
Romance Reviews Magazine on HIGHLAND MASTER
"Amanda Scott proves once again she is the
Highland Master
when it comes to a thrilling tale starring Scottish Knights."—
Harriet Klausner on HIGHLAND MASTER
"[Scott] uses her knowledge of Scottish history to weave an engrossing and sexy story about Highland life in the 1400s."—
Robert Walch
,
The Salinas Californian on HIGHLAND MASTER
"Blue-ribbon Rating - 4 ! Deliciously sexy....
Highland Master
is a rare treat of a read."—
romancejunkies.com on HIGHLAND MASTER
"Amanda Scott has an uncanny knack of picking up her readers and plunking them down right in the middle of her storyworld. The physical settings, the tenor of the times, the characters, the language, and the political and family tensions, all present an unmatched air of authenticity to her work...
Highland Master
is an eminently satisfying read."—
Romance Reviews Today on HIGHLAND MASTER
or
Not Currently Available for Direct Purchase