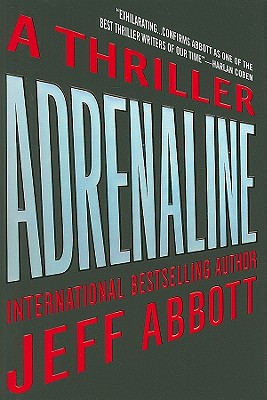 Adrenaline (Hardcover)
Grand Central Publishing, 9780446575171, 416pp.
Publication Date: July 1, 2011
* Individual store prices may vary.
or
Not Currently Available for Direct Purchase
Description
"If you knew this was our final day together, what would you say to me?"
"Anything but good-bye. I can't ever say good-bye to you." ADRENALINE Sam Capra is living the life of his dreams. He's a brilliant young CIA agent, stationed in London. His wife Lucy is seven months pregnant with their first child. They have a wonderful home, and are deeply in love. They have everything they could hope for...until they lose it all in one horrifying moment. On a bright, sunny day, Sam receives a call from Lucy while he's at work. She tells him to leave the building immediately. He does...just before it explodes, killing everyone inside. Lucy vanishes, and Sam wakes up in a prison cell. As the lone survivor of the attack, he is branded by the CIA as a murderer and a traitor. Escaping from the agency, Sam launches into a desperate hunt to save his kidnapped wife and child, and to reveal the unknown enemy who has set him up and stolen his family. But the destruction of Sam's life was only step on in an extraordinary plot-and now Sam must become a new kind of hero.
About the Author
Jeff Abbott is the New York Times bestselling author of fourteen novels. He is the winner of an International Thriller Writers Award (for the Sam Capra thriller The Last Minute) and is a three-time nominee for the Edgar award. He lives in Austin with his family. You can visit his website at www.JeffAbbott.com.
Praise For Adrenaline…
"This is a wonderful book and the start of one of the most exciting new series I've had the privilege to read. Jeff Abbott has been one of my favorite writers for more than a decade and Sam Capra is now on my short list of characters I would follow anywhere. Adrenaline provides the high-octane pace one expects from a spy thriller, while grounding the action with a protagonist that anyone can root for. Sam Capra is the boy next door -- assuming the boy next door to you is a CIA-trained agent who will do whatever is necessary to find and protect his loved ones."—Laura Lippman

"Adrenaline has everything-relentless action, mind-bending intrigue, and twists and turns you won't see coming. It's exhilarating, and confirms Jeff Abbott as one of the best thriller writers of our time."—Harlan Coben

"Adrenaline lives up to its name. Pure thriller in pace, but Abbott manages to keep the book's heart in the right place. The characters aren't cardboard action figures, but people under incredible stresses and strains. I read it in a big gulp."—Charlaine Harris

"Engaging from the first paragraph, terrifying from the second page, ADREANLINE accomplishes what most modern thrillers can't. It makes us care about its characters even while we're speeding headlong down the ingenious Rabbit Hole of its plot. Well done!"—Eric Van Lustbader

"I am, and always have been, a devoted Jeff Abbott fan. Adrenaline takes him to a whole new level. Sam Capra is the perfect hero-tough, smart, pure of heart, and hard to kill. And Adrenaline is the perfect thriller. Taut and edgy, with breakneck pacing and perfect plotting, it's a breathless race from the shocking, heart-wrenching opening sequence to the stunning conclusion. Jeff Abbott is a master, and Adrenaline is his best book yet."—Lisa Unger, NYT bestselling author of Fragile

"A near-perfect thriller... Fans of Harlan Coben, Lee Child, Joseph Finder, or John Grisham-anyone who enjoys a wild ride on a bumpy road-can cheer the arrival of our latest master of the fine art of the page-turner. Highly recommended."—Booklist

"Panic is Jeff Abbott's best novel yet...an instant classic immediately full of questions-who, what, why, how-that have answers you won't see coming."—Lee Child

"Panic is a ride down the roaring rapids. Jeff Abbott has put together a hell of a page turner."—Michael Connelly
Advertisement