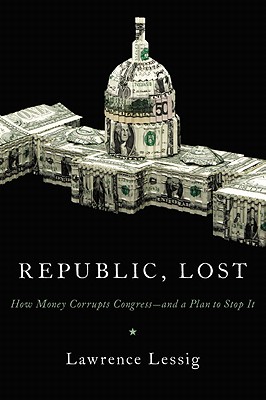 Republic, Lost
How Money Corrupts Congress--and a Plan to Stop It
Hardcover

* Individual store prices may vary.
Other Editions of This Title:
Digital Audiobook (9/29/2011)
Digital Audiobook (8/15/2016)
Hardcover (10/20/2015)
Paperback (10/2/2012)
Description
In an era when special interests funnel huge amounts of money into our government-driven by shifts in campaign-finance rules and brought to new levels by the Supreme Court in Citizens United v. Federal Election Commission-trust in our government has reached an all-time low. More than ever before, Americans believe that money buys results in Congress, and that business interests wield control over our legislature.

With heartfelt urgency and a keen desire for righting wrongs, Harvard law professor Lawrence Lessig takes a clear-eyed look at how we arrived at this crisis: how fundamentally good people, with good intentions, have allowed our democracy to be co-opted by outside interests, and how this exploitation has become entrenched in the system. Rejecting simple labels and reductive logic-and instead using examples that resonate as powerfully on the Right as on the Left-Lessig seeks out the root causes of our situation. He plumbs the issues of campaign financing and corporate lobbying, revealing the human faces and follies that have allowed corruption to take such a foothold in our system. He puts theissues in terms that nonwonks can understand, using real-world analogies and real human stories. And ultimately he calls for widespread mobilization and a new Constitutional Convention, presenting achievable solutions for regaining control of our corrupted-but redeemable-representational system. In this way, Lessig plots a roadmap for returning our republic to its intended greatness.

While America may be divided, Lessig vividly champions the idea that we can succeed if we accept that corruption is our common enemy and that we must find a way to fight against it. In Republic Lost, he not only makes this need palpable and clear-he gives us the practical and intellectual tools to do something about it.
Praise For Republic, Lost: How Money Corrupts Congress--and a Plan to Stop It…
Praise for REPUBLIC, LOST
As an academic, Lessig has the research chops to find the anecdotes that best fit the narrative case he's making, and to lay them out in wonderful detail. But his real gift is in the art of stringing them together into a story. That means that this book is as persuasive as it is enjoyable to read.—
Alesh Houdek
,
The Atlantic
REPUBLIC, LOST is a powerful reminder that this problem goes deeper than poor legislative tactics or bad character. As progressives contemplate how best to pick up the pieces after recent setbacks, a robust agenda to change how business gets done in the capital needs to be part of the picture. This time, we'd better mean it.
—
Matthew Yglesias
,
The American Prospect
Praise for Lawrence Lessig
"Lawrence Lessig gets things changed not for the benefit of corporations but to unleash the creative potential of ordinary people in a digital age."
—
The Guardian
"Lessig is one of those rare legal scholars with both a clear narrative voice and a fine eye for historical irony."
—
The Washington Post
"A bright and spark-filed polemic... combining legal sophistication with a storyteller's knack."
—
Wall Street Journal, on Free Culture
"A powerfully argued and important analysis... it is also surprisingly entertaining."
—
The New York Times Book Review, on Free Culture
"Once dubbed a 'philosopher king of Internet law,' he writes with a unique mix of legal expertise, historic facts and cultural curiosity, citing everything from turn-of-the-century Congressional testimony to Wikipedia to contemporary best-sellers like Chris Anderson's The Long Tail. The result is a wealth of interesting examples and theories on how and why digital technology and copyright law can promote professional and amateur art."
—
M.J. Stephey, Time Magazine
"More than anything, Lessig understands and often wrestles with a rather understated theory: common sense."
—
Derek Bores, PopMatters
"As an initial matter, Lessigian thought is deeply critical in nature... Perhaps it is the luxury of academia, or his nature generally, but Lessig is not afraid to say (loudly) at times: This doesn't work! We need to change. He says it often, and people are listening."
—
Russ Taylor, Federal Communications Law Journal
"No one is more skilled at making arcane legal and technological questions terrifyingly relevant to everyday life than Lessig."
—
Sonia Katyal, Texas Law Review
Without a doubt, the Lessig plan . . . would be a vast improvement over the current system."
—
Washington Monthly
"Mr. Lessig's analysis of the distorting effects of money is . . . dead on."
—
New York Times
Twelve, 9780446576437, 400pp.
Publication Date: October 5, 2011
About the Author
Lawrence Lessig is the Roy L. Furman Professor of Law and Leadership at Harvard Law School, and director of the Edmond J. Safra Center for Ethics at Harvard University. Prior to rejoining the Harvard faculty, Lessig was a professor at Stanford Law School, where he founded the school's Center for Internet and Society, and at the University of Chicago. He clerked for Judge Richard Posner on the 7th Circuit Court of Appeals and Justice Antonin Scalia on the United States Supreme Court.

Lessig serves on the Board of Creative Commons, MapLight, Brave New Film Foundation, The American Academy, Berlin, AXA Research Fund and iCommons.org, and on the advisory board of the Sunlight Foundation. He is a Member of the American Academy of Arts and Sciences, and the American Philosophical Association, and has received numerous awards, including the Free Software Foundation's Freedom Award, Fastcase 50 Award and being named one of Scientific American's Top 50 Visionaries.

Lessig holds a BA in economics and a BS in management from the University of Pennsylvania, an MA in philosophy from Cambridge, and a JD from Yale.
or
Not Currently Available for Direct Purchase