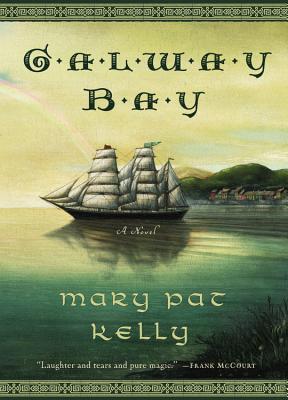 Galway Bay
Hardcover

* Individual store prices may vary.
Other Editions of This Title:
Paperback (2/28/2011)
Description
Here at last is one Irish family's epic journey, capturing the tragedy and triumph of the Irish-American experience. In a rousing tale that echoes the myths and legends of Ireland herself, young Honora Keeley and Michael Kelly wed and start a family, inhabiting a hidden Ireland where fishermen and tenant farmers find solace in their ancient faith, songs, stories, and communal celebrations. Selling both their catch--and their crops--to survive, these people subsist on the potato crop--their only staple food. But when blight destroys the potatoes three times in four years, a callous government and uncaring landlords turn a natural disaster into The Great Starvation that will kill one million. Honora and Michael vow their children will live. The family joins two million other Irish refugees in one of the greatest rescues in human history: the Irish Emigration to America. Danger and hardship await them there. Honora and her unconventional sister Maire watch their seven sons as they transform Chicago from a frontier town to the "City of the Century", fight the Civil War, and enlist in the cause of Ireland's freedom. The Kelly clan is victorious. This heroic story sheds brilliant light on the ancestors of today's 44 million Irish Americans.

In the author's colorful and eclectic life, she has written and directed award-winning documentaries on Irish subjects, as well as the dramatic feature Proud. She's been an associate producer on Good Morning America and Saturday Night Live, written books on Martin Scorsese, World War II, and Bosnia, and a novel based on her experiences as a former nun - Special Intentions. She is a frequent contributor to Irish America Magazine and has a PhD in English and Irish literature.
Praise For Galway Bay…
"After reading her novel, Galway Bay, you might wonder if Mary Pat Kelly knows everything about 19th century Ireland, the Great Famine, and the emigrant experience in America. But it's her exploration of the human heart that moves you. Against landscapes beautiful and bleak she brings her characters to unforgettable life. As they say in Ireland, 'Take your ease with this book.' You'll need time for laughter and tears and pure magic."

"Historically accurate epic of the Irish potato famine veers into gothic romance territory but keeps its eye on the Fenian prize. A satisfying tale, with few surprises for those who know the territory, but no false steps."

Mary Pat Kelly's GALWAY BAY combines two traditional Irish gifts--the gift of hypnotic storytelling, and the gift of rich poetic language. It enables us to see the Irish, and Irish-American experience, in a way we would never have imagined."

"GALWAY BAY" is a wonderful story of triumph against the odds. It's the story of the Irish in America: what they gave and what was given, the things they lost and what was never lost--humor and faith and a strong belief that tomorrow would be a better day. Kelly's knowledge of Ireland and Irish-American history is awesome."

"GALWAY BAY is a lyrical mix of history, romance and riveting narrative. A wonderfully rich, rousing, engaging tale of Irish survival and triumph, it brings enlightenment as well as enjoyment. Mary Pat Kelly's prowess as a storyteller enlivens every page."

"In this engaging novel, Mary Pat Kelly brings to life a critical era of Irish-American life, illuminating a part of our history that remains too little known."
Grand Central Publishing, 9780446579001, 576pp.
Publication Date: February 1, 2009
About the Author
Mary Pat Kelly is the author of a novel Special Intentions, and nonfiction on subjects as varied as Martin Scorcese and the rescue of Scott O'Grady from Bosnia. In her life, she has been everything from a nun to a documentary filmmaker to a producer of short films for "Saturday Night Live." She lives in New York, NY.
or
Not Currently Available for Direct Purchase