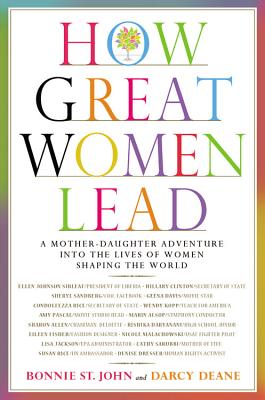 How Great Women Lead
A Mother-Daughter Adventure into the Lives of Women Shaping the World
Hardcover

* Individual store prices may vary.
Description
In boardrooms and lecture halls, on the field and at home, strong female leaders are making a statement around the globe. In How Great Women lead Bonnie St. John and her teenage daughter, Darcy Deane, explore the qualities that motivate some of the world's most powerful women. Through engaging, out-of-the-spotlight interchanges, the authors discover commonly held values, behaviors, and attitudes, as well as the subtle, special skills inherent in female leaders.

From the ethics of Dr. Condoleeza Rice to the fortitude of Hillary Rodham Clinton to the enthusiasm of Teach for America founder Wendy Kopp and the discipline of Geena Davis, each woman in this book shares the exciting story of her rise to the top and the unique qualities it took to get there.
Praise For How Great Women Lead: A Mother-Daughter Adventure into the Lives of Women Shaping the World…
"I have been an avid student of leadership for nearly 40 years, reading thousands of books on leaders from all walks of life and on the general subject of leadership excellence. This is the first book in this territory where my first thought was to share it with my wife and daughter. Bonnie and Darcy have created a fresh conversation about leadership from a woman's perspective which is well crafted and very much needed. I highly recommend it."

---Douglas R. Conant, retired president and CEO, Campbell Soup Company, New York Times Bestselling author of TouchPoints

"Bonnie and Darcy have created a new genre: bringing together inspired narrative with valuable advice from some of the most influential women of our time. This mother-daughter adventure gives us a firsthand account of the journey future female leaders will experience as they embrace the wisdom, strength and influence from those that came before them. As a mother of two daughters, I loved the book!"

---Rohini Anand, senior vice president and global chief diversity officer, Sodexo

"Bonnie is one of the five most inspiring women in America."—Brian Williams, NBC Nightly News

"Bonnie St. John has, against all odds, found great joy in her life. And rather than hoarding it...she generously shares the treasure."—Jeannette Walls, New York Times bestselling author of The Glass Castle

"How Strong Women Pray is a powerful book that teaches us valuable lessons about prayer, about ourselves and about God's open heart toward each one of us"—-Debbie Macomber, author of Knit Together: Discover God's Pattern for Your Life

"With all the things we have to worry about in the world today--terrorists, the crises on Wall Street, and global warming-- Live Your Joy leaves you feeling stronger, more resilient, and more energized so you can feel in charge of your life."—Joan Lunden, author and TV personality

"Bonnie's life is proof that we can all be happy no matter what. Read Live Your Joy to walk a while alongside her and learn how to do it."—Marci Shimoff, #1 New York Times bestselling author of Happy for No Reason
Center Street, 9780446579278, 352pp.
Publication Date: April 24, 2012
About the Author
Despite having her right leg amputated at age five, Bonnie St. John became the first African-American ever to win medals in Winter Olympic competition, taking home a silver and two bronze medals at the 1984 Winter Paralympics in Innsbruck, Austria.

Bonnie graduated Magna Cum Laude from Harvard, earned a Rhodes Scholarship to Oxford, and served in the White House as a Director of the National Economic Council. She has been featured extensively in both national and international media. NBC Nightly News called Bonnie "One of the five most inspiring women in America."