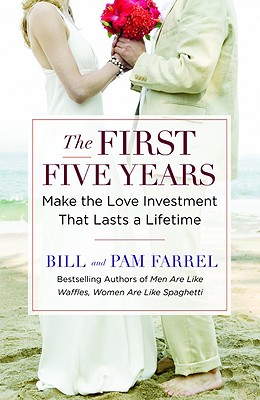 The First Five Years: Make the Love Investment That Lasts a Lifetime (Paperback)
Make the Love Investment That Lasts a Lifetime
Faithwords, 9780446579971, 253pp.
Publication Date: July 15, 2016
Description
Every couple plants seeds of success or failure in the first five years of their marriage. If they lack basic communication skills and the ability to solve conflicts in areas like sex, finances, and emotional intimacy, they won't make it past the five-year-mark. Authors, speakers, and columnists Bill and Pam Farrel offer sound, simple-to-apply advice to help couples establish firm foundations for their relationships. Based on their own successful twenty-five-year-marriage, Bill (who is also a marriage counselor) and Pam have developed strong principles for staying the course when life challenges their relationship. Lively, fun, and practical for newlyweds anywhere in THE FIRST FIVE YEARS, this book is the best investment a couple can make in building a happy, long-lasting marriage.
About the Author
Bill and Pam Farrel have appeared on the CBA bestseller lists numerous times. Bill is a pastor at Shadow Mountain Community Church with David Jeremiah in Southern California, and Pam runs their Masterful Living speaking organization. They have been endorsed by Stormie Omartian, Steve Arterburn, Jill Savage, Jill Briscoe, David and Claudia Arp, Fern Nichols, and Nancy Sebastian Meyer. The Farrels have appeared on countless radio and television programs and are among the most sought-after speaking couples in the country. You can visit their Web site at www.farrelcommunications.com.
Advertisement