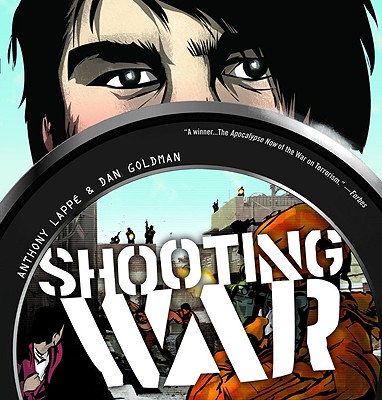 Shooting War (Paperback)
Grand Central Publishing, 9780446581301, 192pp.
Publication Date: September 1, 2008
* Individual store prices may vary.
Description
The global war on terror is raging out of control. The president is popping Prozac. And the #1 selling videogame in 2011 America is the terrorist-simulator Infidel Massacre: Los Angeles. On the streets of gentrified Brooklyn, videoblogger Jimmy Burns' latest anti-corporate rant is cut short by a terrorist bombing of a Starbucks...but his live feed isn't. When his dramatic footage is uploaded by Global News ("Your home for 24-hour terror coverage") and rebroadcast across the planet, the obscure blogger is transformed into an overnight media sensation. The next thing he knows he's on a Black Hawk helicopter inbound for Baghdad, working for the same mainstream media monster he once loathed. Burns soon finds that everyone from his ratings-ravenous network overlords to Special Ops troops with messianic complexes to a charismatic band of tech-savvy jihadists all want to make him their pawn.
About the Author
SHOOTING WAR creator and writer Anthony Lappe is Executive Editor of GNN.tv, the web-site for the Guerrilla News Network. He is the co-author of their critically acclaimed book True Lies (Plume, 2004) and the producer of their award-winning Showtime documentary about Iraq, BattleGround: 21 Days on the Empire's Edge. He has written for The New York Times, the Huffington Post, New York, Vice, and Salon among many others, and has been a producer for MTV News and Fuse. He is a frequent guest on Air America and other radio stations across the country. SHOOTING WAR artist Dan Goldman is a writer, artist and designer. He is the co-author of the political graphic novel Everyman: Be the People, and a founding member of the daily on-line comics anthology ACT-I-VATE, where he serializes his psychedelic romance-thriller "Kelly."
Praise For Shooting War…
"[T]his astute, timely, entertaining graphic novel...predicts, in dramatic terms, the logical evolution of the war. Pundits say there's no good outcome. This book illustrates what that looks like. "
-Penthouse

"A scathing near-future satire of the Iraqi occupation that rings with eerie plausibility...The bleak prognostications are cut with black humor and a penchant for explosions that keep the narrative moving."
-Publishers Weekly, starrred review

"This is a winner...the Apocalypse Now of the War on Terrorism, told in the form of a brilliantly rendered graphic novel."
-Forbes.com

"Fierce, shocking, over-the-top, and wickedly smart."
-New York Magazine, nymag.com

"A stunningly rendered graphic novel that manages to stick a red-hot skewer into the war on terror, Islamic jihad, the mainstream media and the antiestablishment blogosphere in one fell swoop."
-Newsweek.com
or
Not Currently Available for Direct Purchase