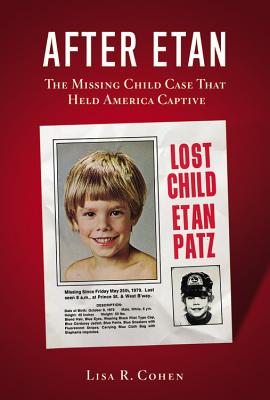 After Etan (Hardcover)
The Missing Child Case that Held America Captive
Grand Central Publishing, 9780446582513, 400pp.
Publication Date: May 1, 2009
Other Editions of This Title:
Paperback (8/21/2012)
* Individual store prices may vary.
Description
On the morning of May 25, 1979, six-year-old Etan Patz left his apartment to go to his school bus stop. It was the first time he walked the two short blocks on his own.
But he never made it to school that day. He vanished somewhere between his home and the bus stop, and was never seen again.
The search for Etan quickly consumed the downtown Manhattan neighborhood where his family lived. Soon afterward, "Missing" posters with Etan's smiling face blanketed the city, followed by media coverage that turned Etan's disappearance into a national story-one that would change our cultural landscape forever.
Thirty years later, May 25 is recognized as National Missing Children's Day, in Etan's honor. But despite the overwhelming publicity his case received, the public knows only a fraction of what happened. That's because the story of Etan Patz is more than a heartbreaking mystery. It is also the story of the men, women, and children who were touched by his life in the months and years after he vanished. It's the story of the agonies and triumphs of the Patz family. It's the story of the extraordinary twists and turns of federal prosecutor Stuart GraBois's relentless pursuit of his prime suspect. From GraBois's creative "outside the box" tactics, to the veteran cop who made his first pedophile bust on a dark Times Square rooftop, to the FBI rookie who cut her teeth chasing the case through the dark recesses of a child molester's mind, this is the story of all the heroic investigators who to this day, thirty years later, continue to seek justice for Etan.
In AFTER ETAN, author Lisa Cohen draws on hundreds of interviews and nearly twenty years of research-including access to the personal files of the Patz family-to reveal for the first time the entire dramatic tale.
About the Author
Lisa R. Cohen is an Emmy award-winning television news magazine producer with over 20 years of network news experience, at both ABC and CBS News. She lives in New York with her family. "After Etan" is her first book.
Praise For After Etan: The Missing Child Case that Held America Captive…
"In the first-ever book on this celebrated case, Lisa Cohen finally gives us the answers behind the most vexing child kidnapping since the Lindbergh Baby. It's a harrowing portrait of a family's grief and an engrossing detective story. A powerful lesson in humanity tested and triumphant."

"Lisa Cohen has done remarkable reporting in this thorough account of a family's terrible loss and the epic pursuit of justice that followed. "After Etan" has the gripping realism of "Law and Order," intensified by the knowledge that this harrowing case study is true."

"The story of the disappearance of Etan Patz is a story that almost everyone remembers the beginning of and only a handful of people know the end of. For the first time, Lisa Cohen finally unravels a complex and tangled mystery while seamlessly telling the heart wrenching story of a family trying to cope with every parent's worst nightmare. The vivid descriptions and the incredible detail make you feel like you are there every step of the way. The book pulls you in. It can be painful at times and still, you can't put the book down."

Cohen covers the story from all angles and keeps the main thread of the investigation clear, even while sharing some of its most intriguing left turns and red herrings, including a series of child molestations by a former boyfriend of one of the boy's caretakers, and a trip, prompted by a psychic's vision, to Hell's Gate in the East River in search of Patz's body.
A masterful combination of deep human interest and detailed criminal investigation into a parent's worst nightmare.
-Kirkus Review (starred)

"As true crime, this tragic tale is a standout."
-Publishers Weekly

"Lisa Cohen is an outstanding writer with a compelling story that effectively educates the reader about the kidnapping death of Etan Patz in NYC. The book gives a better understanding of how the Patz case resulted in the creation of many law enforcement child safety programs, such as the Center for Exploited Children, Megan's law, Amber Alerts, among others. As in all good books, we need a "hero" and clearly that person is former Federal Prosecutor Stuart GraBois, whose dedication to duty and humanitarian concern for the Patz family has been a true inspiration to the entire law enforcement community."
-Joe Occhipinti, Founder & Executive Director of the National Police Defense Foundation

"This powerful work plunged me back in time to a moment that haunts me to this day. Then step by compelling step it walked me thirty years forward, filling in the mysterious gaps of this celebrated case. Finally the book left me, in the present, cheering on its heroes.
For those who will never forget Etan's smiling face, the book answers many questions. For the rest of you, welcome to an ongoing page-turner so full of plot twists, it often reads like a fictional thriller. Except it's all true. This is former "60 Minutes" producer Lisa Cohen's first book, but hopefully not her last."

-Liz Smith

"May 25th, National Missing Children's Day, recognizes thousands of children. Yet in reality, May 25th celebrates the life of one little boy, 6-year-old Etan Patz of New York, taken on May 25, 1979. "After Etan" is a powerful, extraordinary, true story about Etan, his courageous family, the drifter who changed their lives forever, and one tireless, tenacious prosecutor who never gave up in his quest for justice.
"After Etan" takes one back to the beginnings of a movement. It is the story of one child, whose photo taken by his photographer father became a symbol for millions and helped change the way America responded to missing child cases. It is the story of a heart-broken family who lived through the anger and anguish that too many families must endure, and whose courage and grace helped change the world. And it is the story of a re markable prosecutor for whom one case, one child became his life's work."

-Ernie Allen, President & CEO of the National Center for Missing & Exploited Children

"When our son, Adam, was abducted in 1981, my wife, Revé, and I felt no one could really understand what we were going through. Then we met Julie and Stan Patz and found that we were members of a horrible but exclusive club. Their courage inspired us then and inspires us now. The worst thing for searching parents is the not knowing. Reading 'After Etan,' I relived that terrible time and it increased my admiration for Julie and Stan even more. And it made me even more grateful for dedicated public servants like the incredible prosecutor who ultimately produced some measure of justice for Etan. Every American needs to know Etan's story."
or
Not Currently Available for Direct Purchase