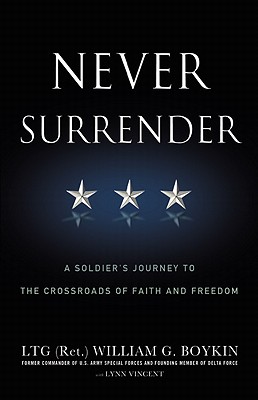 Never Surrender: A Soldier's Journey to the Crossroads of Faith and Freedom (Paperback)
A Soldier's Journey to the Crossroads of Faith and Freedom
Faithwords, 9780446583220, 384pp.
Publication Date: April 28, 2011
Description
General Jerry Boykin is one of the original members of the Delta Force and has spent the majority of his career in Special Forces. His work in this area of the military placed him in many battles--some of them legendary. He was commander of the Delta Force team portrayed in the movie Black Hawk Down. These and other dramatic experiences make Boykin's life story read like the riveting fiction of Tom Clancy. He shares how his foundation of faith--while challenged and even broken--was restored and became the lifeblood that brought him through unimaginable circumstances to a rich and inspiring life. In the end, the general realizes his life would have gone very differently, even tragically, without his faith.
About the Author
Lieutenant General William "Jerry" Boykin served in a variety of posts during his 36-year career in the Army, most of them involving Delta Force and Special Forces. He is an original member of the Army's Delta Force. His last post was as the Deputy Assistant Secretary of Defense for Intelligence in the Pentagon, overseeing the gathering and exploitation of intelligence during the wars in Afghanistan and Iraq.
Praise For Never Surrender: A Soldier's Journey to the Crossroads of Faith and Freedom…
"A powerful and moving chronicle of courage, commitment, and devotion by an audacious soldier and gifted leader. This thrilling account of how he "fought the good fight, finished the race, and kept the faith" in the midst of dangerous and difficult circumstances is inspiring. You won't want to put it down."

"NEVER SURRENDER takes the reader through the experiences of one of America's greatest living soldiers, touching firmly on recent history and much of the drama surrounding it. More importantly, the book shows how one of the strongest of the strong isn't so strong he can't still call on his faith and on God to guide him in difficult times."

"[NEVER SURRENDER] is a saga of battles won and lost, of political intrigue and battlefield valor, of personal tragedy and the God who fashions greatness in the crucible of hardship. This is Jerry Boykin's story, a tale that offers us sterling character to make our own."

""America's Point Man" for over three decades, Jerry Boykin is a national treasure . . . His story is an intriguing read for thinking Americans. He's not only borne the weight of battle, he's carried our nation in his heart. NEVER SURRENDER is a life story that demands both our gratitude and respect. Now that I think about it, my friend is the consummate tender warrior."
Advertisement