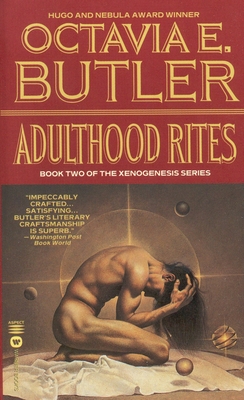 Adulthood Rites (Lilith's Brood #2)
Mass Market

* Individual store prices may vary.
Other Editions of This Title:
Paperback (8/24/2021)
MP3 CD (11/3/2015)
Description
From the award-winning author of Parable of the Sower:After the near-extinction of the human race, one young man with extraordinary gifts will reveal whether the human race can learn from its past and rebuild their future . . . or is doomed to self-destruction.

In the future, nuclear war has destroyed nearly all humankind. An alien race intervenes, saving the small group of survivors from certain death. But their salvation comes at a cost.

The Oankali are able to read and mutate genetic code, and they use these skills for their own survival, interbreeding with new species to constantly adapt and evolve. They value the intelligence they see in humankind but also know that the species—rigidly bound to destructive social hierarchies—is destined for failure. They are determined that the only way forward is for the two races to produce a new hybrid species—and they will not tolerate rebellion.

Akin looks like an ordinary human child. But as the first true human-alien hybrid, he is born understanding language, then starts to form sentences at two months old. He can see at a molecular level and kill with a touch. More powerful than any human or Oankali, he will be the architect of both races' future. But before he can carry this new species into the stars, Akin must reconcile with his own heritage in a world already torn in two.
Praise For Adulthood Rites (Lilith's Brood #2)…
PRAISE FOR OCTAVIA E. BUTLER'S NOVELS

"Brilliant, endlessly rich...pairs well with 1984 or The Handmaid's Tale."—John Green, New York Times (on Parable of the Sower)

"Wild Seed is a book that shifted my life . . . It is as epic, as game-changing, as moving and brilliant as any science fiction novel ever written."—Viola Davis

"An internationally acclaimed science fiction writer whose evocative, often troubling, novels explore far-reaching issues of race, sex, power and, ultimately, what it means to be human."—New York Times

"More than any novel I've ever read, Octavia Butler's Wild Seed examines power, what it means to wield it responsibly and what it means to resist it when it is wielded capriciously."—Rion Amilcar Scott, PEN/Robert W. Bingham Prize-winning author of Insurrections

"In the ongoing contest over which dystopian classic is most applicable to our time, Octavia Butler's 'Parable' books may be unmatched."—New Yorker (on Parable of the Sower)

"Butler is one of the finest voices in fiction-period . . . A master storyteller with a voice that cradles and captivates, Butler casts an unflinching eye on racism, sexism, poverty and ignorance, and lets the reader see the terror and beauty of human nature."—Washington Post Book World
Aspect, 9780446603782, 304pp.
Publication Date: April 1, 1997
About the Author
Octavia E. Butler was a renowned writer who received a MacArthur "Genius" Grant and PEN West Lifetime Achievement Award for her body of work. She was the author of several award-winning novels including Parable of the Sower, which was a New York Times Notable Book of the Year, and was acclaimed for her lean prose, strong protagonists, and social observations in stories that range from the distant past to the far future. Sales of her books have increased enormously since her death as the issues she addressed in her Afrofuturistic, feminist novels and short fiction have only become more relevant. She passed away on February 24, 2006.