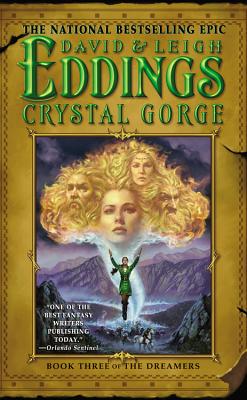 Crystal Gorge
Book Three of The Dreamers
Mass Market

* Individual store prices may vary.
Other Editions of This Title:
Paperback (5/1/2006)
Hardcover (8/1/2005)
Description
After two devastating defeats and the utter annihilation of two armies, the hideous Vlagh still vows to invade the land of Dhrall. A voracious insectile overmind, she can breed millions of soldiers in mere days and even evolve entire new species in just a week.At first, Dhrall's mortal defenders-a motley bunch of mercenaries, pirates, horse lords, and lone heroes like the archer Longbow-are certain they'll prevail again. Most are now battle-hardened veterans, and the natives of Dhrall are fierce bison hunters and bear slayers, ready to fight.But while the Vlagh's past servants were giant, venomous, and mindless bugs, it has now created perfect spies: new minions with a man's appearance and intelligence.

Corrupted by the agents of the Vlagh, the human tribes are soon at one anothers' throats. Far, far worse for mortals is the fact that the Gods can no longer be trusted. For, nearing the end of their 25,000 year cycle, the Elder Gods are doddering toward senility and dementia. And to add to mankind's plight, a strange mysterious entity is manipulating the forces in the upcoming strife and neither gods nor mortals know its true intentions. Now, beset by astonishing, dire challenges, Longbow and his fellow mortals must wage a bitter war against a supernatural enemy-one that has evolved in ways they could have never imagined . . .
Grand Central Publishing, 9780446613316, 560pp.
Publication Date: August 1, 2006
About the Author
David Eddings published his first novel, High Hunt, in 1973, before turning to the field of fantasy with the pioneering series The Belgariad. Born in Spokane, WA, he received his Bachelor of Arts degree from Reed College in Portland, Oregon, in 1954 and a Master of Arts degree from the University of Washington in 1961. He has served in the United States Army, has worked as a buyer for the Boeing Company, has been a grocery clerk, and college English teacher.

Leigh Eddings has collaborated with her husband since the beginning. They live in Nevada.
or
Not Currently Available for Direct Purchase