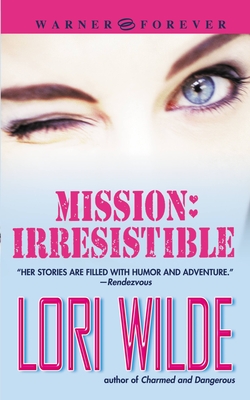 Mission (Mass Market)
Irresistible
Forever, 9780446615150, 368pp.
Publication Date: May 1, 2005
* Individual store prices may vary.
Description
This is Your Mission and You Must Accept It... PR specialist Cassie Cooper loves the adrenaline rush of a well-planned party. And the masquerade ball at the museum is her best yet. But one minute she's chatting with a mummy, and the next a legendary amulet is stolen practically from under her nose. There are times when a woman's gotta do what a woman's gotta do. To find the artifact and save her job, Cassie turns to her nemesis: Dr. Harrison Standish. Standoffish, as she likes to call him. Or Your Chance for Love Will Self-Destruct In Seventy-Two Hours! Archaeologist Harrison has all the intensity of Indiana Jones, but his no-need-for-romance attitude could use some adjustment. Who knew it would happen while he and Cassie are chasing leads, dodging bad guys, and racing against the clock? Just when he needs his full attention on their mission, he's having the damnedest time keeping his mind-and his hands-off her. They still have a shot at recovering the amulet, but when it comes to Cassie, Harrison's already a goner.
About the Author
New York Times and USA Today bestselling author Lori Wilde has written sixty novels. She holds a bachelor's degree in nursing from Texas Christian University and a certificate in forensics. She volunteers as a sexual assault first responder for Freedom House, a shelter for battered women. Lori is a past RITA finalist and has been nominated four times for the Romantic Times Reviewers' Choice Award. She's won the Colorado Award of Excellence, the Wisconsin Write Touch Award, the Lories, the More Than Maggie, the Golden Quill, the Laurel Wreath, and the Best Books of 2006 Book Award. Her books have been translated into twenty-five languages and featured in Cosmopolitan, Redbook, Complete Woman, All You, TIME, and Quick and Simple magazines. She lives in Texas with her husband, Bill.