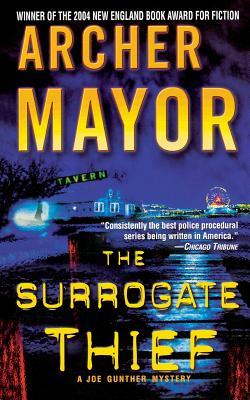 The Surrogate Thief (Mass Market Paperback)
Grand Central Publishing, 9780446616607, 336pp.
Publication Date: October 1, 2005
Other Editions of This Title:
Paperback (1/1/2004)
Compact Disc (10/23/2018)
MP3 CD (10/23/2018)
* Individual store prices may vary.
Description
Brattleboro is the epitome of scenic Vermont. Quaint in its architecture and plainspoken in its politics, it dominates the state's southeast corner as both an employment hub and an election year powerhouse-all while looking like a genteel, postindustrial New England mill town. And yet there is darkness here, too, and nobody knows it better than Joe Gunther. Over the years he has battled drug pushers and corporate swindlers, grappled with environmental conspirators, and foiled gangs and home invaders. But while usually successful in his fight for the town's future, Gunther hasn't always come out on top... Thirty years earlier store owner Klaus Ober-feldt was robbed and beaten senseless. When Klaus died six months later, a case of assault and battery became first degree murder. The guilty man eventually appeared to be a well-known, small-time crook, but enough time had elapsed for him to vanish. Gunther, distracted by his wife's losing struggle with cancer in the same hospital where Klaus was slipping from life, did something that would plague him for the rest of his career: He let the case go cold, burying it in the past along with his private sorrows. Now serendipitously reopened, the Ober-feldt investigation forces Gunther to revisit ancient history and open old wounds. Torn between righting the past and confronting his demons, the veteran cop faces the most personal and dangerous case of his career. For somewhere on the idyllic Brattleboro streets stalks a long-lost murderer who never quite disappeared-and with Joe's renewed interest, now has good reason to kill again...
or
Not Currently Available for Direct Purchase