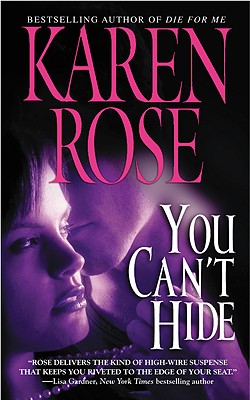 You Can't Hide (Mass Market Paperbound)
Warner Vision, 9780446616898, 518pp.
Publication Date: April 1, 2006
* Individual store prices may vary.
Description

Terror has forever changed the life of psychiatrist Tess Ciccotelli. Someone is tormenting her patients, pushing them to commit suicide, and setting her up to take the blame. But Tess can't break her oath to protect her patients' privacy at all costs. Even when detective Aidan Reagan demands a list of everyone she's treating. Even when the mounting danger threatens Tess herself.

Aidan doesn't like anyone who stalls his cases. Still, he can't help but admire Tess's fierce loyalty to her patients, especially when it becomes clear that a nameless, facelss enemy is set on destroying her career, her family, and finally, Tess herself. As Aidan's heart softens, the killer's will hardens, and one thing becomes clear - the noose is tightening around Tess's neck.
About the Author
Karen Rose is a RITA Award-winning author who fell in love with books from the time she learned to read, with Jo from Little Women and Nancy Drew becoming close childhood friends. A former chemical engineer and high school chemistry and physics teacher, Karen lives in Florida with her husband of twenty years, their two children, and the family cat, Bella. For more information, visit her website: www.karenrosebooks.com.