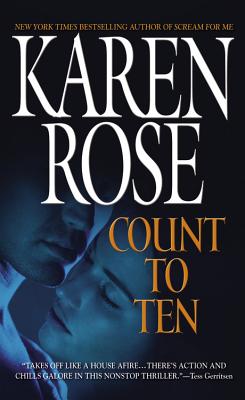 Count to Ten (Mass Market)
Grand Central Publishing, 9780446616904, 400pp.
Publication Date: February 1, 2007
* Individual store prices may vary.
Description
In all his years in the Chicago Fire Department, Lieutenant Reed Solliday ahs never experienced anything like this recent outbreak of house fires - devastating, vicious and in one case, homicidal. He has another problem - his new partner, Detective Mia Mitchell. She's brash, bossy, and taking the case in a direction he never imagined.
Mia's instincts tell her the arsonist is making this personal. And as the infernos become more deadly, one look at the victims' tortured faces convinces her and Reed that they must work closer to catch the killer. With each new blaze, the villain ups the ante, setting firetraps for the people Reed and Mia love. The truth is almost too hot to handle: This monster's desire for death and destruction is unquenchable ... and for Mia he's started the countdown to an early grave.
About the Author
Karen Rose is a RITA Award-winning author who fell in love with books from the time she learned to read, with Jo from Little Women and Nancy Drew becoming close childhood friends. A former chemical engineer and high school chemistry and physics teacher, Karen lives in Florida with her husband of twenty years, their two children, and the family cat, Bella. For more information, visit her website: www.karenrosebooks.com.