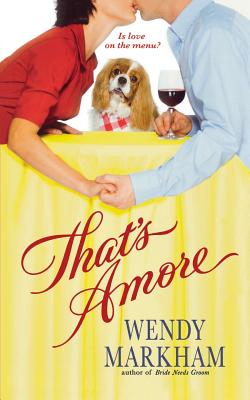 That's Amore
Mass Market

* Individual store prices may vary.
Description
Ralphie Chickalini is on the verge of living happily ever after with the perfect woman. His fiance Francesca Maria Buccigrossi of Astoria Boulevard is a curvaceous, fun-loving brunette. His late father, whose recent death the family is still mourning, adored Francesca's homemade pesto sauce and declared her a "keeper," his brothers think she's a hoot, his sisters adore her, and his nephews and niece already call her "aunt." But as the wedding date approaches, Ralphie begins to question his love.

When Ralphie bumps into two psychic sisters at a New Year's Eve party, his life will be thrown in an unexpected direction. Daria and Tammy might not look alike, but they do have more than just a maternal bloodline in common. They both have a psychic gift. Tammy or "Madame Tamare" is a storefront psychic who predicted the marriage between Ralphie's brother Dominic's marriage and an unlikely bride. Now, Daria is channeling a spirit with a message for Ralphie: his father has returned to guide him to true love. But Daria has her own life to live, and she plans to move back to Arizona, messages from another world aside. Despite contrary inclinations, Daria and Ralphie will soon realize that their paths are destined to collide.
Forever, 9780446618441, 352pp.
Publication Date: July 1, 2008
About the Author
"Wendy Markham" is a psedonym for New York Times bestselling author Wendy Corsi Staub, who has several awards, including RWA's "Rita," and published more than sixty novels under her own name and various pseudonyms. A happily married mother of two, she lives in an old house in a picturesque New York City suburb.