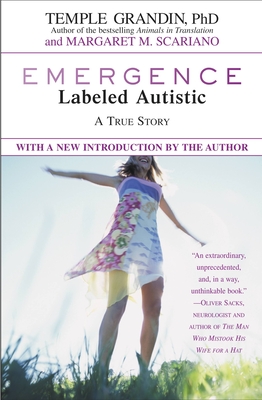 Emergence
Labeled Autistic
Paperback

* Individual store prices may vary.
Description
A true story that is both uniquely moving and exceptionally inspiring, Emergence is the first-hand account of a courageous autistic woman who beat the odds and cured herself. As a child, Temple Grandin was forced to leave her "normal" school and enroll in a school for autistic children. This searingly honest account captures the isolation and fears suffered by autistics and their families and the quiet strength of one woman who insisted on a miracle.
Grand Central Publishing, 9780446671828, 200pp.
Publication Date: September 1, 1996
About the Author
Temple Grandin is the author of the New York Times bestsellers Animals in Translation and Animals Make Us Human, as well as Thinking in Pictures, Humane Livestock Handling, Improving Animal Welfare, and The Autistic Brain. Dr. Grandin's humane livestock facility designs have been adopted all over the world, and she is a consultant on animal welfare to several segments of the fast food industry. Her work has been featured on NPR, 60 Minutes, and The Today Show and in the New York Times and Time and Discover magazines. The story of her life was made into an Emmy Award-winning HBO movie titled Temple Grandin. Dr. Grandin is a Professor of Animal Science at Colorado State University.