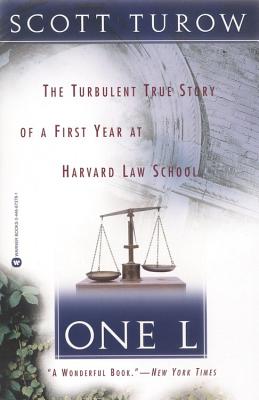 One L: The Turbulent True Story of a First Year at Harvard Law School (Paperback)
The Turbulent True Story of a First Year at Harvard Law School
Grand Central Publishing, 9780446673785, 288pp.
Publication Date: September 1, 1997
* Individual store prices may vary.
or
Not Currently Available for Direct Purchase
Description
Newsweek calls him "an extraordinarily canny and empathetic observer." In bestseller after bestseller, Turow uses his background as a lawyer to create suspense fiction so authentic it reads with the hammering impact of fact. But before he became a worldwide sensation, Scott Turow wrote a book that is entirely true, the account of his own searing indoctrination into the field of law called ... The first year of law school is an intellectual and emotional ordeal so grueling that it ensures only the fittest survive. Now Scott Turow takes you inside the oldest and most prestigious law school in the country when he becomes a "One L," as entering students are known at Harvard Law School. In a book that became a national bestseller, a law school primer, and a classic autobiography, he brings to life the fascinating, shocking reality of that first year. Provocative and riveting, One L reveals the experience directly from the combat zone: the humiliations, triumphs, hazings, betrayals, and challenges that will make him a lawyer-and forever change Turow's mind, test his principles, and expose his heart.
About the Author
Scott Turow is a writer and attorney. He is the author of seven best-selling novels: Presumed Innocent (1987), The Burden of Proof (1990), Pleading Guilty (1993), The Laws of Our Fathers (1996), Personal Injuries (1999), Reversible Errors (2002) and Ordinary Heroes (2005). A novella, Limitations, was published as a paperback original in November 2006 by Picador following its serialization in The New York Times Magazine. His works of non-fiction include One L (1977) about his experience as a law student, and Ultimate Punishment (2003), a reflection on the death penalty. He frequently contributes essays and op-ed pieces to publications such as The New York Times, Washington Post, Vanity Fair, The New Yorker, Playboy and The Atlantic. Mr. Turow's books have won a number of literary awards, including the Heartland Prize in 2003 for Reversible Errors and the Robert F. Kennedy Book Award in 2004 for Ultimate Punishment and Time Magazine's Best Work of Fiction, 1999 for Personal Injuries. His books have been translated into more than 25 languages, sold more than 25 million copies world-wide and have been adapted into one full length film and two television miniseries.
Advertisement