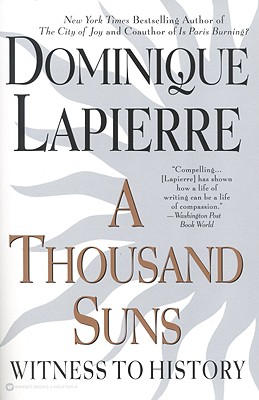 A Thousand Suns (Paperback)
Grand Central Publishing, 9780446675956, 496pp.
Publication Date: February 1, 2000
* Individual store prices may vary.
Description
No one knows the pulse of our world and its people better than Dominique Lapierre, author of such modern classics as Is Paris Burning? and The City of Joy. Awarded the International Rainbow Prize by Italy for his great humanitarian work, this acclaimed journalist has roamed the globe, witnessed momentous events, and met incredible heroes from all walks of life. Now he shares these stirring encounters and adventures in a critically hailed, international bestseller. From the rise of Nazism to the descent of the Iron Curtain, from the endless plains of the Ukraine to a cell in San Quentin, from Golda Meir to Mother Teresa, Lapierre gives passionate voice to the diverse people and pivotal events that have shaped our time. Here is a vibrant tribute to mankind's greatest gift: the ability to dream, endure, and triumph. Big in heart and grand in spirit, this exhilarating volume fervently reflects a favorite proverb from India: Beyond the clouds, there are always...