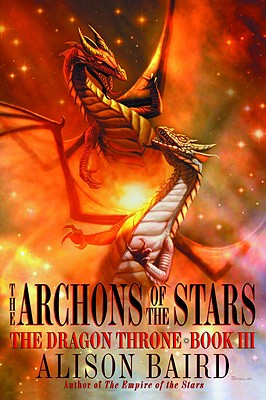 The Archons of the Stars (Paperback)
Aspect, 9780446690973, 336pp.
Publication Date: August 23, 2005
* Individual store prices may vary.
Description
- The first book in the Dragon Throne series, The Stone of the Stars (0-446-69098-8), was published in Aspect trade paperback in 2/04 and has already gone back to press for a second printing. The mass market edition will be published by Aspect in 7/05 and will tie in with this novel. The second novel in the series, The Empire of the Stars, will be published in Aspect trade paperback in 11/04. - Alison Baird, a highly decorated Canadian writer, is the author of The Witches of Willowmere (Penguin, 2002). The Wolves of Woden (Penguin, 2001), and The Hidden World (Penguin, 1999). She is a Silver Birch Award regional winner for The Dragon's Egg (Scholastic, 1994), received an Honorable Mention for the Year's Best Fantasy and Horror for Dragon Pearl (St. Martin's Press, 1996), and was a finalist for the IODE Violet Downey Book Award for White as the Waves (Creative, 1999). - Dragons remain one of fantasy fiction's most popular creatures. The illustrated dragon cover will clearly position. The Archons of The Stars as fantasy, which outpaces science fiction in genre sales.
or
Not Currently Available for Direct Purchase