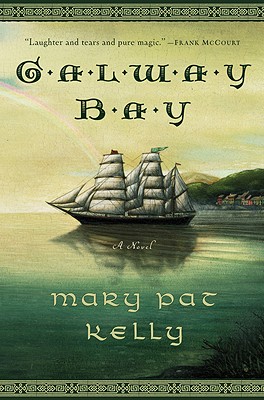 Galway Bay
Paperback

* Individual store prices may vary.
Description
In the bestselling tradition of Frank Delaney, Colleen McCullough, and Maeve Binchy comes a poignant historical family saga set against the Famine.

In a hidden Ireland where fishermen and tenant farmers find solace in their ancient faith, songs, stories, and communal celebrations, young Honora Keeley and Michael Kelly wed and start a family. Because they and their countrymen must sell both their catch and their crops to pay exorbitant rents, potatoes have become their only staple food.

But when blight destroys the potatoes three times in four years, a callous government and uncaring landlords turn a natural disaster into The Great Starvation that will kill one million. Honora and Michael vow their children will live. The family joins two million other Irish refugees--victims saving themselves--in the emigration from Ireland.

Danger and hardship await them in America. Honora, her unconventional sister Mv°ire, and their seven sons help transform Chicago from a frontier town to the "City of the Century." The boys go on to fight in the Civil War and enlist in the cause of Ireland's freedom.

Spanning six generations and filled with joy, sadness, and heroism, Galway Bay sheds brilliant light on the ancestors of today's forty-four million Irish Americans--and is a universal story you will never forget.
Praise For Galway Bay…
"A vividly lavish historical novel. Through the eyes of the extended Kelly clan, the reader is treated to a panoramic overview of the Irish American experience."—Booklist

"[Will] appeal to fans of Frank McCourt and Irish History."—Publishers Weekly

"After reading her novel, Galway Bay, you might wonder if Mary Pat Kelly knows everything about 19th century Ireland, the Great Famine, and the emigrant experience in America. But it's her exploration of the human heart that moves you. Against landscapes beautiful and bleak she brings her characters to unforgettable life. As they say in Ireland, 'Take your ease with this book.' You'll need time for laughter and tears and pure magic."—Frank McCourt, Pulitzer-Prize-winning author of ANGELA'S ASHES
Grand Central Publishing, 9780446697101, 576pp.
Publication Date: February 28, 2011
About the Author
Mary Patricia Kelly is the author of a novel Special Intentions, and nonfiction on subjects as varied as Martin Scorsese and the rescue of Scott O'Grady from Bosnia. In her life, she has been everything from a nun to a documentary filmmaker to a producer of short films for Saturday Night Live. She lives in New York City.