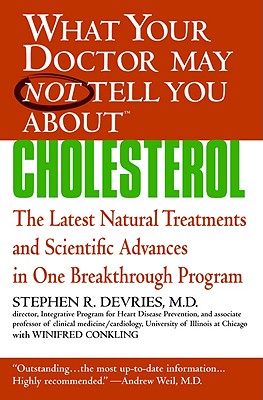 What Your Doctor May Not Tell You About(TM)
Cholesterol: The Latest Natural Treatments and Scientific Advances in One Breakthrough Program
Paperback

* Individual store prices may vary.
Description
Heart disease is largely preventable, but conventional cholesterol management is often inadequate. According to university cardiologist and leading prevention specialist Dr. Stephen R. Devries, avoiding heart disease requires a far more comprehensive approach that balances new high tech testing with low tech treatments. Now, in What Your Doctor May Not Tell You About Cholesterol, Dr. Devries combines natural treatments with the latest scientific advances.
New types of cholesterol tests are highlighted that go far beyond routine testing to identify hidden risks. Expanding the traditional medical model, Dr. Devries illustrates the role of mind/body interventions, lifestyle, supplements, vitamins, and conservative use of medication for optimal prevention.
Praise For What Your Doctor May Not Tell You About(TM) : Cholesterol: The Latest Natural Treatments and Scientific Advances in One Breakthrough Program…
"Dr. Stephen Devries has done an outstanding job in presenting the most-up-todate information on managing cholesterol levels and heart attack risk. He explains clearly and concisely the role of diagnostic tests, lifestyle changes, pharmaceutical drugs, dietary supplements, and natural remedies in protecting your heart so that you can take greater charge of your own health. Highly recommended." --Andrew Weil, MD


"Finally, a credible, credentialed cardiologist takes a stand for treating the real causes of heart disease beyond cholesterol." --Mark Hyman, MD, New York Times bestselling author of UltraMetabolism and editor in chief of Alternative Therapies in Health and Medicine

"A must read if your cholesterol is high and you are trying to decide what to do about it. Dr. Stephen Devries shares his 20 years of clinical experience as an integrative cardiologist and clearly guides patients through the myriad of supplement, herbal, dietary, and medication options for cholesterol management." --Victoria Maizes, MD, executive director, Program in Integrative Medicine, University of Arizona

"Dr. Devries is part of the new breed of integrative cardiologists who offer safe and effective alternatives...Highly recommended. --Stephen T. Sinatra, MD, FACC, CNS, author of Reverse Heart Disease Now
Grand Central Life & Style, 9780446697736, 224pp.
Publication Date: June 26, 2007
About the Author
Stephen R. Devries, M.D., is a preventive cardiologist and is an associate professor of medicine in the Division of Cardiology and Center for Integrative Medicine at Northwestern University in Chicago.