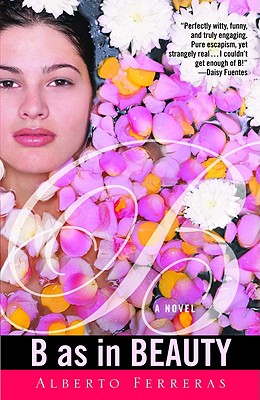 B as in Beauty (Paperback)
Grand Central Publishing, 9780446697897, 352pp.
Publication Date: April 24, 2009
* Individual store prices may vary.
Description
Everyone in the world, it seems, is either prettier or thinner (or both) than Beauty Marie Zavala. And the only thing "B" resents more than her name is the way others judge her for the extra 40 pounds she can't lose. At least she has her career. Or did, until she overhears her boss criticizing her weight and devising a scheme to keep her from being promoted. Enter B's new tax accountant, a modern-day matchmaker determined to boost B's flagging self-esteem by introducing her to rich, successful men who will accept her for who she is. As B's confidence blossoms, so do her fantasies of revenge. But will B find true happiness or true disaster when she unwittingly falls for the one guy she shouldn't?
About the Author
Alberto Ferreras is a New York City based writer, filmmaker and performance artist. He has directed and produced the critically acclaimed "Habla" series for HBO, and his independent film work has been presented all over the world, including the prestigious Berlin Film Festival. As a performance artist he is known for playing "Doctor Truth", a character who makes himself available in public spaces to answer any question with complete honesty.
"B as in Beauty" is his first novel.
For more information please visit
http://albertoferreras.com/
Praise For B as in Beauty…
"A funny and moving search for one's self esteem. It makes you realize that beauty lies not in the eyes of the beholder but in the eyes of your own mind and heart."—Denise Quinones, Miss Universe 2001

"B as in Beauty is a winner. Hilarious, bizarre and poignant all in one wonderful read. I absolutely loved it. B as in Beauty is B as in Brilliant!"—Soledad O'Brien, CNN

"Move over, Ugly Betty; Fat B's in town and she's just as bewitching, bodacious and beautiful as the unconventional Latina TV star. In Ferreras's dazzling debut, Cuban-American Beauty Maria Zavala-"B" to her friends-bounces off the page like a firecracker while she discovers how to embrace her curves under the tutelage of a wise madam. At the outset, B's not just ashamed of her chubby bod, but finds it standing in the way of a promotion at her Manhattan ad agency-thanks to a bitchy boss-and she hasn't been laid in ages. B's best friend and co-worker, petite Lillian, tells B to "reinvent" herself. Natasha Sokolov, her Russian-American tax preparer, goes a step further by offering her a moonlighting position "comforting" men with a fetish for voluptuous women-men who will pay "to worship a body like yours." B accepts the proposition (selling time but not sex), only to find once again the sting of rejection: her first client rejects her for being too lightweight. It's just one of many illuminating, funny and deliciously awkward moments on B's page-turning road to love and happiness."—PW

"Move over, Ugly Betty; Fat B's in town and she's just as bewitching, bodacious and beautiful as the unconventional Latina TV star. In Ferreras's dazzling debut, Cuban-American Beauty Maria Zavala-"B" to her friends-bounces off the page like a firecracker while she discovers how to embrace her curves ."—PW

"Alberto Ferrera's first novel is engaging, funny, poignant, and hard to put down--except to confidently embrace ones beauty and have that other pastelito with grace & humor!"—Ambiente Magazine

"At a time when the TV show Mad Men is all the rage, B as in Beauty is full of witty and clever observations about life in an ad agency. (Peggy Olsen meets Julia Alvarez.)"—mylatinovoice.com
Book Videos