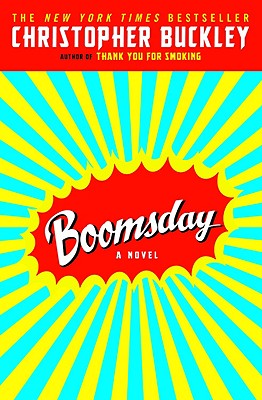 Boomsday (Paperback)
Twelve, 9780446697972, 318pp.
Publication Date: May 1, 2008
Description
BOOMSDAY'S heroine is Cassandra Devine, a charismatic 29-year-old blogger who incites massive political turmoil when, outraged over mounting Social Security debt, she politely suggests that Baby Boomers be given government incentives to kill themselves by age 75. Her modest proposal catches fire with millions of her outraged peers ("Generation Whatever") and an ambitious Senator seeking to gain the youth vote in his presidential campaign.
With the help of Washington's greatest spin doctor, the blogger and the politician try to ride the issue of euthanasia for Boomers (they call it "Transitioning") all the way to the White House, over the forceful objections of the Religious Right and, of course, Baby Boomers, who are deeply offended by demonstrations on the golf courses of their retirement resorts.
About the Author
Christopher Buckley, "the quintessential political novelist of his time" according to Fortune magazine, is the winner of the distinguished ninth annual Thurber Prize for American Humor, Tom Wolfe has described him as "one of the funniest writers in the English language."Buckley is the author of eleven books, many of them national bestsellers, including Thank You For Smoking, God Is My Broker, No Way To Treat A First Lady, and Florence of Arabia. His books have been translated into over a dozen languages, including Russian and Korean.
Advertisement