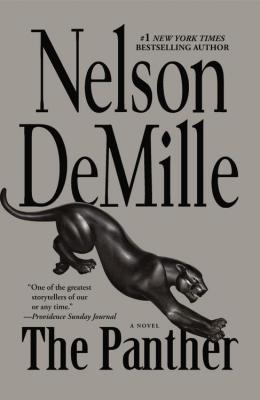 The Panther (Paperback)
Grand Central Publishing, 9780446699617, 640pp.
Publication Date: August 6, 2013
Description
Anti-Terrorist Task Force agent John Corey and his wife, FBI agent Kate Mayfield, have been posted overseas to Sana'a, Yemen-one of the most dangerous places in the Middle East. While there, they will be working with a small team to track down one of the masterminds behind the USS Cole bombing: a high-ranking Al Qaeda operative known as The Panther. Ruthless and elusive, he's wanted for multiple terrorist acts and murders-and the U.S. government is determined to bring him down, no matter the cost. As latecomers to a deadly game, John and Kate don't know the rules, the players, or the score. What they do know is that there is more to their assignment than meets the eye-and that the hunters are about to become the hunted.

Filled with breathtaking plot turns and told in John Corey's inimitable voice, THE PANTHER is a brilliant depiction of one of the most treacherous countries in the world and raises disturbing questions about whether we can ever know who our enemies - or our allies - really are.
About the Author
Nelson DeMille is a former U.S. Army lieutenant who served in Vietnam and is the author of nineteen acclaimed novels, including the #1 New York Times bestsellers Night Fall, Plum Island, The Gate House, The Lion, The Panther and Radiant Angel. His other New York Times bestsellers include The Charm School, Word of Honor, The Gold Coast, Spencerville, The Lion's Game, Up Country, Wild Fire, and The General's Daughter, the last of which was a major motion picture. For more information, you can visit NelsonDeMille.net.
Praise For The Panther…
"Die-hard fans and new readers will discover hours of entertainment "

"Corey ranks as one of the best protagonists in thriller fiction... DeMille again proves that he has the master touch with "The Panther," a suspenseful action free-for-all."

The Panther" is a fast-paced thriller, and Mr. DeMille offers a good number of gritty action scenes along with the snappy dialogue. Nelson DeMille, 69, a former infantry officer who served in Vietnam, also infuses the thriller with a good bit of information about the state of terrorism today."
Advertisement