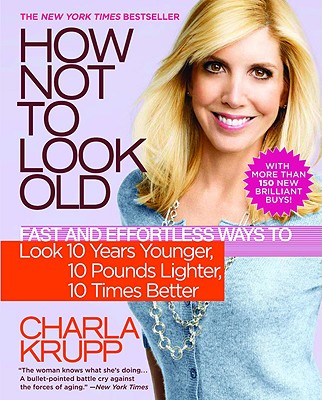 How Not to Look Old: Fast and Effortless Ways to Look 10 Years Younger, 10 Pounds Lighter, 10 Times Better (Paperback)
Fast and Effortless Ways to Look 10 Years Younger, 10 Pounds Lighter, 10 Times Better
Springboard Press, 9780446699976, 224pp.
Publication Date: May 1, 2009
Description
How Not to Look Old the 15-week New York Times bestseller is now in paperback updated with over 150 new Brilliant Buys


Charla Krupp knows that aging sucks So she's here to help. It's every woman's dream: looking hip, sexy, fresh, and pretty--whether you're in your 30's, 40's, 50's, or 60's. Now it's every woman's necessity: looking younger will help you hold onto your job and your partner--particularly when everyone around you seems half your age. It's about making the ultimate "to-do" list of LITTLE beauty and fashion changes that pay off BIG TIME.
Charla Krupp, beauty editor and expert, known for her real woman's approach to looking fabulous, offers brutally frank and foolproof advice on how not to look old.
About the Author
Charla Krupp has done more than 100 style segments on The Today Show and she has appeared on Good Morning America, Oprah, The View, Dateline NBC, and has been a regular on The E! Channel and Home Shopping Network. She was beauty director of Glamour, editor of In Style, beauty editor for People's Style Watch and executive editor of Shop Etc. Magazine. Her writing has appeared in The New York Times, InStyle, Glamour, Shop Etc., People, Cosmopolitan, The Chicago Tribune, USA Today, and Time.
Praise For How Not to Look Old: Fast and Effortless Ways to Look 10 Years Younger, 10 Pounds Lighter, 10 Times Better…
"Dashing, fun and informative, the book is an spirit-lifting tonic for any woman with a case of the gravity blahs."
-New York Times

"The book also resonates because, to its credit, much of Krupp's fast fix advice makes common sense. The author's main mantra is a call to simple, unfussy elegance: loose hair, lighter makeup, restraint of embellishment."
-Salon.com

"Charla knows how to inspire people. This book is every girl's new best friend."

"It's the little black book for the gray-is-the-new-blond set! At our age we are evolved enough to understand that wrinkles don't matter...But who needs 'em? Buy this book and glow old gracefully!"
Advertisement