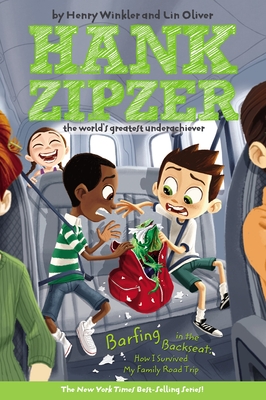 Barfing in the Backseat #12
How I Survived My Family Road Trip (Hank Zipzer #12)
Paperback

* Individual store prices may vary.
Description
Hank's dad has decided to enter a crossword-puzzle tournament, and he wants to make a family road trip of it! So the family piles into the car—along with Frankie and Katherine the iguana (Hank and Emily each get to bring a "friend"). When they reach their destination, they'll get to spend the day at a roller-coaster park during Hank's dad's tournament! The only caveat is that Hank has a homework packet to finish before they get there . . . which he somehow manages to lose at a stop along the way. Suddenly, Hank doesn't feel so good . . . Can Hank and Frankie rescue the lost packet and get Hank on a roller coaster?
Grosset & Dunlap, 9780448443287, 160pp.
Publication Date: July 5, 2007
About the Author
Henry Winkler is an acomplished actor, producer and director.  In 2003, Henry added author to his list of acheivements as he co-authored a series of children's books.  Inspired by the true life experiences of Henry Winkler, whose undiagnosed dyslexia made him a classic childhood underachiever, the Hank Zipzer series is about the high-spirited and funny adventures of a boy with learning differences.
Henry is married to Stacey Weitzman and they have three children.
Lin Oliver is a writer and producer of movies, books, and television series for children and families. She has created over one hundred episodes of television, four movies, and seven books. She lives in Los Angeles with her husband, Alan. They have three sons named Theo, Ollie, and Cole, one fluffy dog named Annie, and no iguanas.