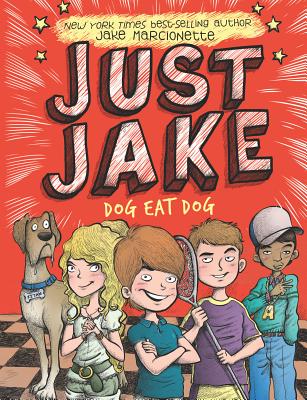 Just Jake (Hardcover)
Dog Eat Dog #2
Grosset & Dunlap, 9780448466934, 196pp.
Publication Date: March 31, 2015
* Individual store prices may vary.
Description
Sixth grader Jake Ali Mathews is slowly climbing his way back up the ladder of popularity. Increasingly settled in his new school and with a great new best friend, Michael, everything seems to be going okay for Jake. Until Jake's beloved teacher, Mrs. Pilsner, has a baby and the students in Jake's homeroom are handed off to the super-scary substitute, Ms. Cane. Rather than teach through traditional methods, Ms. Cane decides to have these go-getters help her with a fledgling pet-grooming company. Dogs, cats, and more get bathed, popularity struggles become boardroom struggles, and Jake's friendship with Michael is tested. Even Jake's diabolical sister, Alexis, gets in on the puppy-cleaning action and hilarity ensues. But will Jake's brand of AWESOMENESS be enough to clean up this furry mess?
About the Author
Jake Marcionette is a kid author and lives in Jacksonville, Florida with his family. His favorite sport is lacrosse. His first book, Just Jake #1 published in Winter 2014 to great success featuring national and local televsions spots, successful book signings and array of local and national print media. It debuted at No. 7 on the New York Times Best Seller List for Middle Grade books. He found his agent, Dan Lazar at Writer's House by googling "how to publish a book" and cold-calling agents.