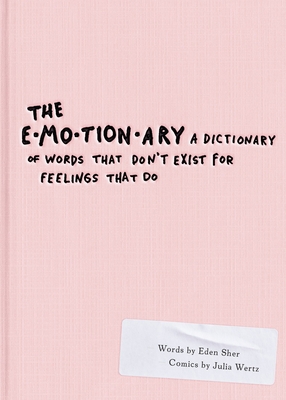 The Emotionary (Paperback)
A Dictionary of Words That Don't Exist for Feelings That Do
Razorbill, 9780448493848, 208pp.
Publication Date: October 24, 2017
* Individual store prices may vary.
Description
A dictionary of words that don't exist for feelings that do written by The Middle actress Eden Sher and illustrated by acclaimed graphic novelist Julia Wertz.

"A must-read for bad, good and just plain complicated days." —Oprah.com

All her life, Eden Sher has suffered from dyscommunicatia (n. the inability to articulate a feeling through words.). Then, one day, she decided that, whenever she had an emotion for which she had no word, she would make one up.

The result of this is The Emotionary, which lives at the intersection of incredibly funny and very useful. Chock full of words you always wanted/never knew you needed, often accompanied by illustrations of hilarious and all-too-familiar situations, The Emotionary will be a cherished tool for you or the world-class feelings-haver in your life.
 
At long last, all your complicated feelings can be put into words, so you can recognize them for what they are, speak their names aloud, and move on. Finally!
About the Author
Eden Sher is an actress best known for her role as Sue Heck on the nationally syndicated TV series The Middle. Eden has been nominated for a Critics' Choice Award for Best Supporting Actress in a Comedy Series four times, winning in 2013. She is also the voice of Star on the animated series Star vs. The Forces of Evil. The Emotionary is her first book.

Julia Wertz has published five graphic novels, including Drinking at the Movies and The Infinite Wait, and does monthly history comics for The New Yorker and Harper's Magazine.
Praise For The Emotionary: A Dictionary of Words That Don't Exist for Feelings That Do…
"Perfect for when that one word just falls flat."
—Justine Magazine 

"Hilarious and therapeutic."
—The New York Observer

"For emotionally 'idiovated' readers, this is a wry reminder that they aren't the only ones who feel that way."
—Publishers Weekly

"For all those whose frustration at being unable to name a particular emotion has ever overtaken the emotion they are unable to name, this clever lexicon is here to provide relief. Situated somewhere between Urban Dictionary and a beginner's guide to anxiety and introversion, the book highlights the importance of emotional literacy but stops short of addressing emotional competence, relying instead on the audience's developed sense of irony to understand the validity of the newly named feelings while also managing to recognize any unhealthy emotional practices." 
—Kirkus Reviews 


From the Hardcover edition.