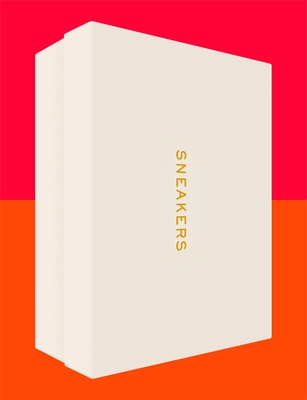 Sneakers
Hardcover

* Individual store prices may vary.
Description
NEW YORK TIMES BESTSELLER

"Sneakers covers nearly everything there is to know about the vast universe of everyone's favorite comfy athletic shoes."—Parade

"A beautifully assembled collage of image, experience, and inspiration."—Vogue

"One of this year's coolest books."—Men's Journal

"The definitive story of the sneaker universe."—WSJ Magazine

Featuring exclusive interviews with Virgil Abloh (Off-White), Daniel Bailey, Ronnie Fieg (Kith), DJ Clark Kent, Serena Williams, Alexander Wang, Kobe Bryant and many, many others. 

Through honesty, intimacy, intelligence, and swagger, Sneakers amounts to a singular rubber-soled taxonomy, a global group portrait of a culture that's both personal and public, driven by commitment and curiosity, and sustained by our definitive cast of storytellers, historians, and artists. 

An absolute necessity for design devotees and sneakerheads of all ages! Sneakers is a definitive exploration of the cultural phenomenon of sneakers, now an 85-billion-dollar-a-year industry. This gift-worthy book features 320 pages of photos and interviews with industry gurus, sports legends, and celebrities in a stunning package created by celebrated designer Rodrigo Corral.
 
The book's carefully-curated list of participants takes readers to the center of the action. Edson Sabajo, owner of Amsterdam's seminal sneaker boutique, Patta, leads a sneaker hunt that starts in the back-alleys of Philadelphia and ends in the Middle East. Jeff Staple, designer of a pair of sneakers that resells for $6000, recalls the sneaker riot his design kicked off on the Lower East Side of Manhattan in 2005. Jim Riswold dishes on making commercials with Michael Jordan. Ronnie Fieg explains the collaborative magic of KITH. Adidas's Rachel Muscat and Jon Wexler get philosophical about their star collaborator, Kanye West. Nike's legendary Tinker Hatfield takes a glimpse into the future.  Professional tennis player Serena Williams shares an exclusive reveal. And much, much more. From its arresting cover design and thought-provoking interiors to the unprecedented depth of its first-person accounts, Sneakers is an absolute must-have for sneaker lovers and anyone who is interested in design, creative process, street culture, branding, entrepreneurship, art and fashion.
Praise For Sneakers…
"Sneakers overdelivers."—GQ

"The new Sneaker Bible."—Sneaker Freaker

"A definitive guide to the culture that surrounds [sneakers] and the creative visionaries who bring them to life..reflects the evolving, complex world of sneaker culture."—CNN Style

"Everything you ever wanted to know about sneakers."—Hypebeast

"A beautiful book of original art, photos, and interviews with some of the biggest names in the shoe game."—HelloGiggles

"The one book every sneakerhead should own."—BroBible
 
"This is a fashion coffee table book that both me and my boyfriend can get behind."—Popsugar, 2017 Holiday Gift Guide

"Now with sneaker fever at an all-time high, the book, Sneakers, gives a behind-the-scenes look at the people driving the trend: the shoe designers."—New York Magazine's The Cut
 
"With the appetite for sneaker news—releases, new models and collaborations—at an all-time high, the book's arrival couldn't be more timely."—Women's Wear Daily

"A deep dive into the footwear phenomenon."—NiceKicks
 
"Includes interviews you won't find anywhere else."—Footwear News
 
"A captivating look at the ethos of sneakers and the stories behind the stories of a world that exists somewhere between the underground and the local mall...revelatory."—The Manual
 
"Loaded with interviews and high-quality photos of some of the most sought-after sneakers on earth."—UnCrate

"The definitive book on sneaker culture has arrived"—New York Magazine

"an anthology of sartorial tales — technically about sneakers but really much broader, touching on design, branding, street culture, and entrepreneurship."—Buzzfeed
 
"Fancy kicks get their due in Sneakers."—Vanity Fair

"'Tis the season for enriching our closets and our mind and end tables with beautiful, fashionable tomes that'll last a lifetime."—Refinery 29

"Get your kicks by gifting this exhaustingly engaging history of the iconic shoe." –Family Circle
 
"If the sneaker buff in your life is already getting plenty of kicks this holiday, this book is a great option — and won't take up space on his sneaker rack."—Allure
 
"The book is an extensive and colorfully designed global look at the people who are moving and shaking this billion dollar consumer good that for many people is also a form of art."—The Daily Beast
 
"Move those shoe boxes over and have a seat with 'Sneakers.'"—The Bookworm Sez
 
"the perfect coffee table book for the ultimate sneaker-head."—Glamour
 
"For the Hypebeast: The definitive book on her favorite subculture."—Elle
 
"They're calling this new 320 page tome dedicated to the business of sneaker design the "new sneaker bible", its pages packed with photos and insight about the culture of collectible kicks."—Design Milk
 
"A must-have."—Signature Reads

Razorbill, 9780448494333, 320pp.
Publication Date: October 24, 2017
About the Author
Rodrigo Corral runs the Rodrigo Corral Art + Design Studio and is the creative director at Farrar, Straus and Giroux and New Directions. With a focus on conceptual art, he designed the New York Times bestselling books Decoded by Jay-Z, Classy by Derek Blasberg, Influence by Mary-Kate and Ashley Olsen, and the book and film identity for The Fault in Our Stars by John Green. He has also created covers for the Pulitzer Prize–winning author Junot Díaz, and bestselling authors Chuck Palahniuk and Jeff Vandermeer. He has taught at the School of Visual Arts in New York City and lectured around the country. Through it all, Rodrigo remains deeply committed to pushing the visual possibilities in art, in sports, and throughout the universe.


Alex French is an Esquire contributing editor. His journalism has appeared in numerous publications, including The New York Times Magazine, Wired, Grantland, Surfer, Buzz Reads, and This American Life. He is the author of the bestselling Kindle single The Killing Season. He lives on the Jersey Shore with his beautiful wife and two children.


Howie Kahn is a contributing editor for WSJ. The Wall Street Journal Magazine and editor in chief of the acclaimed Prince Street podcast. A James Beard Award winner, Kahn's journalism has appeared in GQ, Wired, Travel + Leisure, and numerous other publications. His collaborations with Alex French began with a series of popular oral histories for the late, great website Grantland. Kahn lives in Brooklyn with his wife and son.