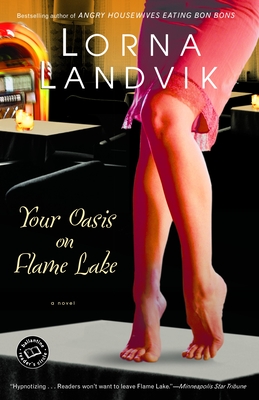 Your Oasis on Flame Lake (Paperback)
Ballantine Books, 9780449002988, 320pp.
Publication Date: June 16, 1998
Other Editions of This Title:
Digital Audiobook (10/31/1999)
* Individual store prices may vary.
Description
Best friends fast approaching forty in the small Minnesota town of Flame Lake, Devera and BiDi were recently voted "Least Changed" at their twentieth high school reunion—a label neither one finds very appealing. For each craves a change in her life: Devera desires a break from her humdrum marital routine; BiDi longs to reconnect with her distant fourteen-year-old daughter (the only girl on the high school hockey team), not to mention jump-start a sex drive stuck in neutral. So when Devera's husband decides to fulfill his longtime dream of opening a nightclub in his basement, Your Oasis on Flame Lake arrives not a moment too soon. Nothing fancy, it's just a BYOB joint where you can hang out, sing, dance, tell jokes, and be yourself. But then an unexpected crisis throws both families into chaos, forcing them all to take stock of their lives—and learn the power of forgiveness.
About the Author
Lorna Landvik has worked as an actor, a comedian, and a speed typist in the 1984 Los Angeles Olympics. She lives with her husband, two daughters, and their dog, Petunia.
Praise For Your Oasis on Flame Lake…
"Hypnotizing . . . Readers won't want to leave Flame Lake."
—Minneapolis Star Tribune

"WONDERFUL . . . FUN . . . As lovely as anything you're likely to read . . . A lot of laughs and a little wisdom."
—Detroit Free Press

"CAPTIVATING . . . THIS BOOK SHOULD DELIGHT. . . . Her characters are clever and offbeat, like Garrison Keillor's or Fannie Flagg's."
—Booklist

"Finely wrought characters populate Landvik's intricately textured tale. . . . Landvik illuminates what is essential, without seeming to, and pushes us to break through hard surfaces to a higher level of understanding. All the while, we are grandly entertained. . . . She now takes her place next to Maeve Binchy, Jon Hassler, and all the great storytellers who bring you to the heart of their home places. She carries you with especially delicate detail, amazing resonance, humor and brilliant images."
—Minneapolis Star Tribune

"Quirky characters are a dime a dozen, but truly believable, lovable ones are not—a fact that makes Landvik's latest slice of American life a genuine pleasure."
—Kirkus Reviews

"Written with warmth, wit, and tart dialogue, the book engages big themes (love, friendship, loyalty, betrayal, and the quest for meaning). . . . Landvik's quirky and passionate characters, and her ardent determination to give them dignity, make this a heartwarming story."
—Publishers Weekly