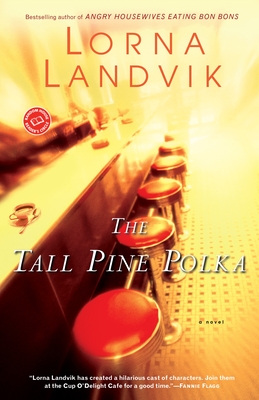 The Tall Pine Polka (Paperback)
Ballantine Books, 9780449003701, 464pp.
Publication Date: May 29, 2001
Description
In the small town of Tall Pine, Minnesota, at the Cup O'Delight Cafe, the townsfolk gather for what they call the Tall Pine Polka, an event in which heavenly coffee, good food, and that feeling of being alive among friends inspires both body and soul to dance. There's the cafe owner, the robust and beautiful Lee O'Leary, who escaped to the northwoods from an abusive husband; Miss Penk and Frau Katt, the town's only lesbian couple ("Well, we're za only ones who admit it."); Pete, proprietor of the Shoe Shack, who spends nights crafting beautiful shoes to present to Lee, along with his declarations of love; Mary, whose bad poetry can clear out the cafe in seconds flat; and, most important of all, Lee's best friend, Fenny Ness, a smart and sassy twenty-two-year-old going on eighty. When Hollywood rolls into Tall Pine to shoot a movie, and a handsome musician known as Big Bill appears on the scene, Lee and Fenny find their friendship put to the test, as events push their hearts in unexplored directions--where endings can turn into new beginnings. . . .
About the Author
Lorna Landvik is also the author of the bestselling Your Oasis on Flame Lake and Patty Jane's House of Curl. She has worked as an actor, a comedian, and a speed typist in the 1984 Los Angeles Olympics. She lives with her husband, two daughters, and their dog, Petunia. From the Hardcover edition.
Praise For The Tall Pine Polka…
"Lorna Landvik has created a hilarious cast of characters. Join them at the Cup O'Delight Cafe for a good time."
—FANNIE FLAGG

"ENDEARING . . . THIS IS A VERY FUNNY BOOK . . . It is to Landvik's credit that comedy and tragedy blend seamlessly. . . . There is music in this story."
—USA Today

"A BIG, BOISTEROUS NOVEL THAT RARELY STOPS TO CATCH ITS BREATH . . . Landvik's bittersweet humor and affectionate sense of place may remind readers of Fannie Flagg's Fried Green Tomatoes at the Whistlestop Cafe. . . . Both ladies can render even minor characters vividly three-dimensional on a flat page."
—Minneapolis Star Tribune

"Forget about Lake Wobegone. Hands down the small town of choice is Tall Pine."
—Library Journal

"Landvik has small-town life down to a T. . . . [Her] strength has been in developing rich, unusual, and memorable characters. This book is no exception. . . . Give The Tall Pine Polka a whirl."
—The Gazette (Colorado Springs)

"Off-kilter characters with grit and humor populate this delightfully quirky novel. . . . So vivid and lively are Landvik's characters, readers will wish they could jump in the car and go find Cup O'Delight, settle in at the counter, and join a high-energy jam session. This is another down-home winner for Landvik."
—Booklist

"[A] swift-moving romp . . . Having previously created beguiling characters in Patty Jane's House of Curl and Your Oasis on Flame Lake, Landvik invites readers to belly up to the counter and join the regulars sipping coffee at the Cup O'Delight Cafe . . . [The Tall Pine Polka] is good-natured and zooms along, fueled by zany Minnesota energy."
—Publishers Weekly
Advertisement