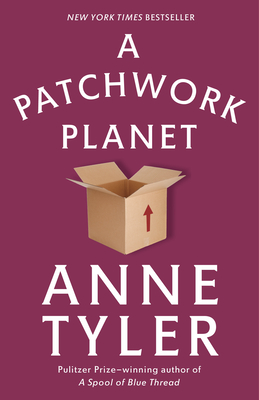 A Patchwork Planet (Paperback)
Ballantine Books, 9780449003985, 304pp.
Publication Date: February 22, 1999
Description
In this, her fourteenth novel--and one of her most endearing--Anne Tyler tells the story of a lovable loser who's trying to get his life in order.
Barnaby Gaitlin has been in trouble ever since adolescence. He had this habit of breaking into other people's houses. It wasn't the big loot he was after, like his teenage cohorts. It was just that he liked to read other people's mail, pore over their family photo albums, and appropriate a few of their precious mementos.
But for eleven years now, he's been working steadily for Rent-a-Back, renting his back to old folks and shut-ins who can't move their own porch furniture or bring the Christmas tree down from the attic. At last, his life seems to be on an even keel.
Still, the Gaitlins (of "old" Baltimore) cannot forget the price they paid for buying off Barnaby's former victims. And his ex-wife would just as soon he didn't show up ever to visit their little girl, Opal. Even the nice, steady woman (his guardian angel?) who seems to have designs on him doesn't fully trust him, it develops, when the chips are down, and it looks as though his world may fall apart again.
There is no one like Anne Tyler, with her sharp, funny, tender perceptions about how human beings navigate on a puzzling planet, and she keeps us enthralled from start to finish in this delicious new novel.
About the Author
Anne Tyler was born in Minneapolis in 1941 but grew up in Raleigh, North Carolina. She graduated at nineteen from Duke University, and went on to do graduate work in Russian studies at Columbia University. Her eleventh novel, Breathing Lessons, was awarded the Pulitzer Prize in 1988. She is also the author of If Morning Ever Comes, The Tin Can Tree, A Slipping-Down Life, The Clock Winder, Celestial Navigation, Searching for Caleb, Earthly Possessions, Morgan's Passing, Dinner at the Homesick Restaurant, The Accidental Tourist, Saint Maybe, and Ladder of Years. Tyler is a member of the American Academy of Arts and Letters. She lives in Baltimore.
Praise For A Patchwork Planet…
"Anne Tyler writes like an angel....One of those books that readers close at the end and recognize the truth they contain."
--USA Today

A NEW YORK TIMES NOTABLE BOOK

"A PERFECT GEM...TYLER'S BOOKS GET WISER, FUNNIER AND RICHER AS THEY GO."
--The Seattle Times

"SO WONDERFULLY READABLE THAT ONE SWALLOWS IT IN A SINGLE GULP...What makes this novel so irresistible is the main character and narrator Barnaby Gaitlin, a 30-year-old misfit, a renegade who is actually a kind-hearted man struggling to find his place in the world."
--Philadelphia Inquirer

"IF WE BELIEVE THAT SERIOUS NOVELS ARE ABOUT THE SEARCH FOR A TRUE HOME, THEN A PATCHWORK PLANET IS A NOVEL THAT REPAYS OUR ALWAYS DELIGHTED ATTENTION."
--Carol Shields, The New York Times Book Review

"POSSESSES A TENDERNESS REMINISCENT OF BREATHING LESSONS...[Tyler] is beloved not just for her three-dimensional Baltimore or her quirkily intimate characters, but also for the small, heroic struggles they encounter in the course of a day."
--The Boston Sunday Globe

"VINTAGE TYLER...A PATCHWORK PLANET TELLS THE HEART-TUGGING STORY OF THE SINS OF THE BOY BEING VISITED ON THE MAN."
--Chicago Tribune

"FRESH AND ENGAGING."
--Time

"Filled with insight and compassion, Anne Tyler's 14th novel chronicles a year in the life of a 30-year-old 'loser' named Barnaby Gaitlin....Tyler has crafted a remarkably lovable character, a young man as endearing as Macon Leary, the memorable protagonist of her 1985 bestseller, The Accidental Tourist."
--Minneapolis Star Tribune

"What resonates throughout the novel is Tyler's gentle wisdom. Her understanding of the complexities of human nature comes across beautifully, making this book a singular treat....She endows the tale of Barnaby's eventual self-discovery and redemption with charm, quiet humor and many bittersweet observations on the meaning of emotional connectedness with those around us, the aging process and the ability we all possess to start afresh."
--The Miami Herald

"This could only be Tyler territory, where losers are treated with a tenderness that encourages them to consider winning in the world. In her 14th novel, the persuasive storyteller with the beautiful, unforced style works her familiar ground--family, connection, the quirks of humans--with ease."
--Entertainment Weekly
                                                        
"A Patchwork Planet is filled with descriptions that summarize an entire way of life in a single image....[Tyler's] genius lies in making quotidian events extraordinarily poignant."
--San Francisco Chronicle

"In an uncertain world, it's reassuring to know for an absolute fact that Anne Tyler's next novel (and the one after that and the one after that) will cause me to shiver at truths that I recognize but have never heard voiced, pinch me sharply with its poignancy and catch me off guard with funny moments that make me laugh so hard I have to put the book down until I get a grip on myself. Tyler's 14th novel, A Patchwork Planet, does all that."
--San Diego Union Tribune

"ABSOLUTELY WONDERFUL:
Tyler's many admirers are sure to number this among her very best work....[Her] appealing warmth and flair for eccentric comedy are abundantly displayed in her superb 14th novel."
--Kirkus Reviews (starred review)

"It is Tyler's great talent to involves us thoroughly with her characters. With a keen eye for detail and the sense of humanity that she displayed in her 1985 novel The Accidental Tourist, Tyler brilliantly portrays their foibles, their disappointments and their hopes. Barnaby Gaitlin is one of her most sympathetic creations."
--People

"A Patchwork Planet, Pulitzer Prize-winning Anne Tyler's 14th novel, finds the black-sheep son of an old Baltimore family attempting to get his life on track....Recalls Tyler's early works, such as Celestial Navigation and Dinner at the Homesick Restaurant, which...are peopled by genuine eccentrics whose grip on the world is charmingly, but definitely, precarious...Anne Tyler lovingly captures that world."
--The Cleveland Plain Dealer

"Writing with humor and pathos worthy of her previous works, Tyler continues to make distinctive observations about the quirks and peculiarities of domestic life and the struggle of some lost souls to be part of a world where everyone else seems focused on the beaten path."
--Publishers Weekly (starred review)

"I adore Anne Tyler...It's hard to imagine any other writer...whom you can read with such unalloyed pleasure."
--San Jose Mercury News

"This is a wonderful novel--don't miss it!...A Patchwork Planet is like a crazy quilt with familiar fabrics which, when assembled, becomes unique."
--Chattanooga Press

"THIS IS A BOOK YOU CAN TRUST. . . .
Tyler understands this modest world, both its frustrations and its rewards. With each funny, painful novel, she adds another square to her tapestry of redemption."
--The Christian Science Monitor

"Always entertaining...Anne Tyler once again creates characters that are believable, funny and true....In Barnaby Gaitlin, Tyler has created a character who looks into the mirror of self-revelation and finds not only flaws but redeeming qualities as well."
--Hartford Courant

"A sophisticated, poignant and carefully crafted chart of the vicissitudes of trust."
--Time Out New York

"I don't know whether anyone has called Tyler a fin-de-siècle Jane Austen. I guess I'll do it here. Like Austen's, Tyler's books are full of life's little lessons, closely observed and compassionately recounted....A Patchwork Planet is filled with pleasure and pain. That the pleasure triumphs is [Tyler's] final kindness to us, her readers."
--Ft. Worth Star-Telegram

"The novel is wise and funny....Not only a colorful snapshot of youth but a compassionate picture of old age...With exquisite description and flawless dialogue, Tyler dignifies the lives of miraculously ordinary characters."
--New York Daily News

"Alternately comedic and tragic...With A Patchwork Planet, Tyler has once again served up literary comfort food for the soul."
--BookPage
Advertisement