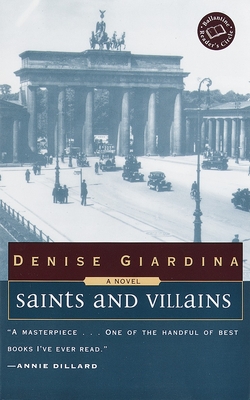 Saints and Villains (Paperback)
Ballantine Books, 9780449004272, 512pp.
Publication Date: February 9, 1999
Description
In the charnel house that was Europe in the Second World War, there were few instances of shining moral courage, let along secular sainthood. Dietrich Bonhoeffer, the German theologian and Nazi resister was the exception. This emblematic figure risked his life--and finally lost it--through his participation in a failed plot to assassinate Hitler and topple his regime. Saints and Villains gives us this exemplary life in a sweeping narrative that is bold in conception and utterly convincing in its power of imaginative reconstruction.
About the Author
Denise Giardina was born and raised in West Virginia. She is the author of Good King Harry, Saints and Villains, Storming Heaven, and The Unquiet Earth.
Praise For Saints and Villains…
"High drama . . . Stirring adventure . . . To find a historical figure like Dietrich Bonhoeffer packaged in what is essentially a moral thriller is a surprising joy."
--The Boston Globe

"A SPLENDID NOVEL ABOUT A SPLENDID MAN . . . In the pantheon of heroes of this fading century, few are more deserving of residency than [Dietrich] Bonhoeffer."
--Philadelphia Inquirer

"COMPELLING . . . The story is engrossingly narrated, with an eye for significant detail, a strong sense of life's bitter ironies and a powerful feeling of immediacy. . . . The Bonhoeffer depicted in this novel is a convincing blend of high-mindedness and self-doubt, an austere yet vulnerable man, naive and unworldly in some respects, but able to see far more deeply than many of his contemporaries into the illness and evil of his time."
--Newsday

"[A] PANORAMIC STORY . . . This novelized version of the pastor's life by Giardina manages the extremely difficult task of giving a known story genuine tension and spiritual resonance."
--Publishers Weekly (starred review)
Advertisement