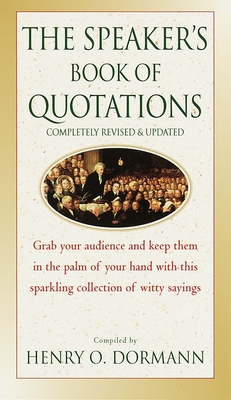 The Speaker's Book of Quotations, Updated and Revised (Paperback)
Ballantine Books, 9780449005606, 336pp.
Publication Date: August 8, 2000
* Individual store prices may vary.
or
Not Currently Available for Direct Purchase
Description
FROM THE WORLDS OF BUSINESS, POLITICS, HISTORY, LITERATURE, ENTERTAINMENT, AND MORE . . . "Think how much happier women would be if, instead of endlessly fretting about what the males in their lives are thinking, they could relax, secure in the knowledge that the correct answer is: very little."
--DAVE BARRY "I'd tell you what I really thought about the national media, but as my good friend Dana Carvey would say, 'Wouldn't be prudent. Not gonna do it.' "
--GEORGE BUSH "We must believe in luck. For how else can we explain the success of those we don't like?"
--JEAN COCTEAU "Don't find fault. Find a remedy."
--HENRY FORD "Peace is more precious than a piece of land."
--ANWAR SADAT "People who read tabloids deserve to be lied to."
--JERRY SEINFELD "Patriotism is not a short and frenzied outburst of emotion but the tranquil and steady dedication of lifetime."
--ADLAI STEVENSON.
About the Author
Henry O. Dormann is a man of unique talents and achievements. He was the founder and the first executive director of the Library of Presidential Papers. He has served as president of the Technical Development Corporation, a division of the US Banknote Corporation; chairman of the board of the National Enquirer, the largest circulated newspaper in the United States; president and editor in chief of SIPA Publications; president and editor in chief of Holiday magazine; chairman of the Haitian American Community Development Corporation; chairman of Sabador, Inc., Liberia; chairman of the New York Assembly Committee on Economic Development; chairman of the International Board of Industrial Advisors; and chairman and editor in chief of Leaders magazine.
Advertisement