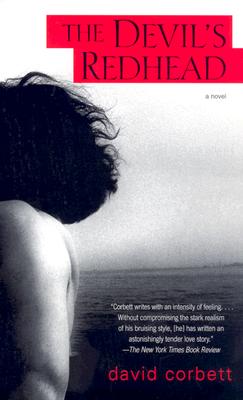 The Devil's Redhead
Mass Market Paperback

* Individual store prices may vary.
Other Editions of This Title:
MP3 CD (8/23/2016)
Description
In this masterfully written fiction debut, David Corbett combines a gripping crime story with a poignant tale of enduring love.

Freelance photographer and wildcat smuggler Dan Abatangelo blows into Vegas to hit the tables and taste the night life. In his path waits Shel Beaudry, a knockout redhead with a smile that says, Gentlemen, start your engines. The attraction is instant–and soon the two are living the gypsy life on the West coast, where Dan captains a distribution ring for premium Thai marijuana, His credo "no guns, no gangsters, it's only money."

But the trade is changing. Eager to get out, Dan plans one last run, judges poorly, and is betrayed by an underling and caught by the DEA. To secure light time for Shel and his crew, Dan takes the fall and pleads to ten years. Now, having served the full term, he emerges from prison a man with a hardened will but an unchanged heart. Though probation guidelines forbid any contact with Shel, a convicted felon, he sets his focus on one thing: finding her.

Shel's life has taken a different turn since her release from prison. She met Frank Maas, a recovering addict whose son died a merciless death. Driven by pity, Shel dedicates herself to nursing Frank back from grief and saving him from madness. But his weaknesses push him into the grip of a homegrown crime syndicate in command of the local methamphetamine trade. Mexicans are stealing the syndicate's territory, setting in motion a brutal chain of events that engulf Frank, Shel, and Dan in a race-fueled drug war from which none will escape unscathed.

A brilliant crime novel of betrayal and retribution, passion and redemption, The Devil's Redhead heralds the arrival of a powerful new voice in fiction.
Praise For The Devil's Redhead…
"Will leave you weak and shaken, exhilarated."
—JOE GORES
Author of Hammett

"CORBETT WRITES WITH AN INTENSITY OF FEELING. . . . Without compromising the stark realism of his bruising style, [he] has written an astonishingly tender love story."
—The New York Times Book Review

"A TENSE, TERRIFIC STORY, BEAUTIFULLY WRITTEN . . . When I finished it I thought of Ross Macdonald; David Corbett is that good."
—MAX BYRD
Author of Jefferson, Jackson, and Grant

"ENGROSSING . . . RICHLY DEVELOPED . . . [A] STAR IS BORN WITH THE DEVIL'S REDHEAD."
—Deadly Pleasures

"ADDICTIVE, BRUTALLY REALISTIC, AND ULTIMATELY VERY MOVING . . . Corbett writes crime with a deft touch, a professional investigator's knowledge, and a rare talent for telling details."
—MARK COGGINS
Author of The Immortal Game

"The Devil's Redhead isn't a walk on the wild side, it's a flat-out run for your life with the hounds chasing after you. David Corbett writes with flair and passion, creating characters who live and breathe and do very bad things. I believed every word of it. Hit me again."
—ROBERT FERRIGNO
Author of Flinch

"Corbett handles both selfless love and unspeakable brutality with a poet's hand. The Devil's Redhead is the best debut novel I've read in years."
—MARTIN J. SMITH
Author of Straw Men

"Often dark, often hopeful, The Devil's Redhead takes you deep into the world of crime and drugs and the lives they inevitably consume. This is a compelling novel about loyalty, love lost and renewed, and the price we all must pay when we live too close to the edge."
—JAMES BROWN
Author of Lucky Town

"What a story . . . Corbett has taken the threads of life . . . and woven a roller-coaster ride through tunnels of good, bad, murder, and redemption. Hold on tight, readers, you're in for a thrill."
—The Clarion-Ledger (Jackson, MS)

"A THRILLING DEBUT . . . Its scintillating plot and edgy characters create a wrecking ball story with a flash-bang ending."
—Easy Reader

"There are no easy answers in [The Devil's Redhead]. It is at once a novel of white-knuckle suspense, a serious and even literary exploration of the human psyche, and a love story of two badly flawed people fighting against the odds in any way they can. The Devil's Redhead is a bullet-fast, high-wire act without a safety net."
—JOE GORES

"Set in a brilliantly evoked Northern California landscape, The Devil's Redhead succeeds as both a gritty romance and a terrifying insider's view of the awesome stupidity and insanity of methamphetamine-fueled criminal elements."
—Pages magazine

"The Devil's Redhead is filled with taut suspense and wonderfully vivid details—Corbett uses his words to maximum effect. . . . [He] is a talented author who will take the mystery world by storm."
—Romantic Times

"Corbett thunders out of the gate with this gritty, moving debut. . . . [His] prose dazzles, cutting across the pages with passionate force."
—Publishers Weekly


Ballantine Books, 9780449007167, 416pp.
Publication Date: June 3, 2003
or
Not Currently Available for Direct Purchase