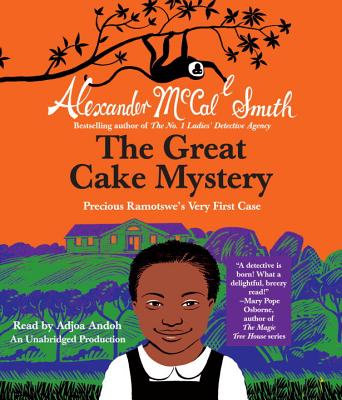 The Great Cake Mystery (CD-Audio)
Precious Ramotswe's Very First Case (Precious Ramotswe Mysteries for Young Readers)
Listening Library (Audio), 9780449011409
Publication Date: April 10, 2012
Other Editions of This Title:
Digital Audiobook (4/2/2012)
Paperback (4/3/2012)
Hardcover (4/3/2012)
Hardcover (4/3/2012)
* Individual store prices may vary.
Description
THE NO. 1 LADIES' DETECTIVE AGENCY - Young Readers

Fans around the world adore the bestselling No. 1 Ladies' Detective Agency series, the basis of the HBO TV show, and its proprietor Precious Ramotswe, Botswana's premier lady detective.  In this charming series, Mma  Ramotswe navigates her cases and her personal life with wisdom, and good humor—not to mention help from her loyal assistant, Grace Makutsi, and the occasional cup of tea.
 
Have you ever said to yourself, Wouldn't it be nice to be a detective?
 
This is the story of an African girl who says just that. Her name is Precious.
 
When a piece of cake goes missing from her classroom, a traditionally built young boy is tagged as the culprit. Precious, however, is not convinced. She sets out to find the real thief. Along the way she learns that your first guess isn't always right. She also learns how to be a detective.
About the Author
Alexander McCall Smith is the author of the beloved bestselling No. 1 Ladies' Detective Agency series, the Isabel Dalhousie series, the Portuguese Irregular Verbs series, the 44 Scotland Street series, and the Corduroy Mansions series. He is also the author of numerous children's books. He is professor emeritus of medical law at the University of Edinburgh and has served on many national and international organizations concerned with bioethics. He was born in what is now known as Zimbabwe and taught law at the University of Botswana.
Praise For The Great Cake Mystery: Precious Ramotswe's Very First Case (Precious Ramotswe Mysteries for Young Readers)…
"A detective is born! What a delightful, breezy read!"
     —Mary Pope Osborne, bestselling author of The Magic Tree House series

"Told with an innocence that will captivate young readers, The Great Cake Mystery is a kind-hearted, feel-good story for all. Loved it!"
     —Graham Salisbury, author of Under the Blood-Red Sun and the Calvin Coconut series
 
"Kids will love this kind and clever new detective. They'll love the mystery, and they might even love the thieves. I look forward to more!"
     —Patricia Reilly Giff, award-winning author of Wild Girl and other books

"Good for kids who like mysteries and stories about other cultures and friendship all packed into one." —TIME for Kids magazine

"Stunning artwork. . . . A compelling plot and interesting secondary characters, especially classmates who are quick to make unfounded accusations and their teacher, who provides wisdom just when it is needed, will leave readers wanting more. One case where an adaptation from an adult book is as much fun to read as the original."
     —Kirkus Reviews, starred review
 
"This mini mystery and its jaw-dropping illustrations will please proto-detectives, both large and small. . . . What [McCall Smith]'s done with The Great Cake Mystery is unique. . . . His fans will pluck it up like so many of his other books. . . . A really fun read."
     —School Library Journal

"Bold and striking, McIntosh's chunky, two-color woodcutlike pictures present evocative images of the African setting. This is a story, and a heroine, with impressive dimension." 
      - Publishers Weekly, starred review