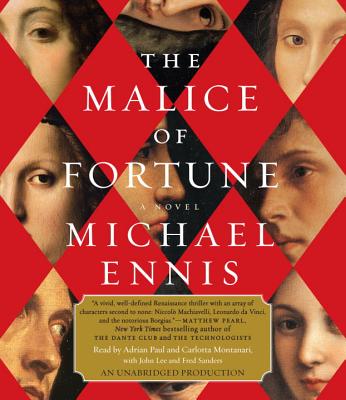 The Malice of Fortune
A Novel of the Renaissance
Compact Disc

* Individual store prices may vary.
Other Editions of This Title:
Digital Audiobook (9/10/2012)
Paperback (9/1/2013)
Hardcover (9/11/2012)
Hardcover, Large Print (1/9/2013)
Paperback (6/4/2013)
September 2012 Indie Next List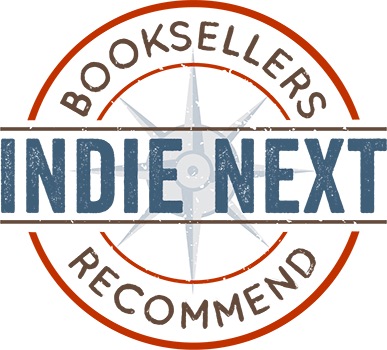 "Ennis brings to life the chaos and mayhem of the Italy that inspired Machiavelli's The Prince. An unlikely trio find themselves teaming up to solve the most notorious murder of the Italian Renaissance: the assassination of the Borgia Pope's favorite son. Niccol' Machiavelli believes he can solve the mystery by studying human behavior. Leonardo da Vinci believes that carefully measuring all the elements of the crime will lead him to the killer. Then there is Damiata, the courtesan, who knows an unhealthy amount of Borgia secrets. This tale will keep you guessing right up to the thrilling conclusion."
— Sarah Harvey, Tattered Cover Book Store, Denver, CO
View the List
Description
Against a teeming canvas of Borgia politics, Niccolò Machiavelli and Leonardo da Vinci come together to unmask an enigmatic serial killer, as we learn the secret history behind one of the most controversial works in the western canon, The Prince...
When Pope Alexander dispatches a Vatican courtesan, Damiata, to the remote fortress city of Imola to learn the truth behind the murder of Juan, his most beloved illegitimate son, she cannot fail, for the scheming Borgia pope holds her own young son hostage. Once there, Damiata becomes a pawn in the political intrigues of the pope's surviving son, the charismatic Duke Valentino, whose own life is threatened by the condottieri, a powerful cabal of mercenary warlords. Damiata suspects that the killer she seeks is one of the brutal condottierri, and as the murders multiply, her quest grows more urgent. She enlists the help of an obscure Florentine diplomat, Niccolò Machiavelli, and Valentino's eccentric military engineer, Leonardo da Vinci, who together must struggle to decipher the killer's taunting riddles: Leonardo with his groundbreaking "science of observation" and Machiavelli with his new "science of men." Traveling across an Italy torn apart by war, they will enter a labyrinth of ancient superstition and erotic obsession to discover at its center a new face of evil—and a truth that will shake the foundations of western civilization. 
Praise For The Malice of Fortune: A Novel of the Renaissance…
"Epic… This is a dense narrative, permeated by the sights, sounds and smells of Renaissance Italy, and one that can stand shoulder to shoulder with Umberto Eco's Name of the Rose, with which it is sure to be compared." —Kirkus (starred review)

"Absorbing and intelligent... Fans of superior historical mystery writers such as Steven Saylor and Laura Jo Rowland will be enthralled." —Publishers Weekly (boxed, starred review)

"A hefty novel about the politics of 16th-century Italy [that] reads like a pulpy mystery… A thrilling whodunit—and a pretty good primer on da Vinci's 'science of observation' as well as Machiavelli's 'science of man.'" —Melissa Maerz, Entertainment Weekly

"Ennis is an uncommonly graceful writer and a conscientious researcher… his story zips along, a pleasure." —Charles Finch, USA Today

"Ennis bring[s] multiple layers of authenticity to his epic novel. It's a heady mix of "The Da Vinci Code," Borgia politics and "The Silence of the Lambs." Think of it as CSI: Italy circa 1502, with Machiavelli as a detective and psychological profiler and da Vinci as history's first forensic pathologist." —Christian DuChateau, CNN

"An intricate murder mystery and political thriller [with] a heartrending love story… Like the best historical fiction, the novel transports the reader entirely elsewhere." —Laura Pearson, Time Out Chicago

"Intricate, rewarding… The Malice of Fortune is reminiscent of Umberto Eco's The Name of the Rose in that the intrigue is rich and is inextricably entwined in its world. Amid these walls of power the reader no more loses sight of the danger of the game than of the need to solve the puzzle. The novel works not just because it is a finely wrought history but because the characters are of their time while transcending it." —Robin Vidimos, The Denver Post


"A novel that ranks among the best with the Italian Renaissance setting…. The narrative brims with minor details that convey authenticity and authority over the material…. Ennis brings the characters alive with impassioned dialogue." —David Hendricks, San Antonio Express

"Leonardo da Vinci and Niccolo Machiavelli join their considerable forces in this teeming historical thriller… They make an exceptional team." —Sheryl Connelly, New York Daily News

"With its vivid, well-defined array of characters, The Malice of Fortune captures the glorious and gritty details of Renaissance Italy in a propulsive story. Ennis has achieved a great accomplishment, historical fiction that places us right into the characters' present." —Matthew Pearl, author of The Dante Club and The Technologists

"The Malice of Fortune is more than a thriller--it's a tender love story, a grim exploration of the nature of human evil, and an immersive tour of Renaissance Italy as courageous, perceptive young Niccolo Machiavelli fights for his life against ruthless Borgia factions.  A novel written with gusto, panache, and intellectual rigor." —Lyndsay Faye, author of Gods of Gotham and Dust and Shadows

"A true masterpiece... Michael Ennis has poured the knowledge and wisdom of many lifetimes into the exquisite form of a mystery so dark, so labyrinthine.  The Malice of Fortune is stunning, terrifying, and utterly mesmerizing. I can honestly say I never fully appreciated the genius of Machiavelli, or the savagery of the Borgias, until now." —Anne Fortier, author of Juliet

"Michael Ennis bring the Renaissance alive in this tour-de-force: The Malice of Fortune dishes out a simmering stew, thick with chicanery, bloodshed, dastardly deeds, code-breaking, puzzle-solving, and a cast of characters that includes Leonardo da Vinci, Niccolò Machiavelli, Francesco Guicciardini, Cesare Borgia—and Damiata, the real-life courtesan whose brassiness, brains, and beauty dazzle even her employer and nemesis: the Pope." —Katherine Neville, author of The Eight and The Fire
 
"For readers who've been waiting all these years for the next The Name of the Rose—here it is. Michael Ennis brings a scholar's mind and a writer's heart to this beautifully crafted work of Renaissance intrigue that has a rare quality of feeling ancient and modern at the same time. A powerful thinking-man's thriller." —Glenn Cooper, author of Library of the Dead and Book of Souls
 
"This is a fascinating novel, filled with extraordinary, well-realized historical characters and a plot that is engrossing and wickedly clever. The Malice of Fortune is an excellent, beautifully researched, and well-written novel that has a fine, fine sense of place. It captured my attention up front and kept me turning the pages to the very end." —Douglas Preston, co-author of The Monster of Florence
 
"Intriguing [and] well-researched...Ennis, a former art-history teacher, is an expert on Renaissance Italy.  Everything in [Malice] is based on actual events and Ennis' fictional conceit - that Machiavelli and da Vinci work together to stop a powerful serial killer - shape[s] Holmes-and-Watson duos out of historical figures.  Having Machiavelli cast in the role of what Ennis calls 'history's first forensic profiler' will satisfy those who come for the period ambience." —Booklist

Random House Audio Publishing Group, 9780449012833
Publication Date: September 11, 2012
About the Author
MICHAEL ENNIS taught art history at the University of Texas, developed museum programs as a Rockefeller Foundation Fellow, and worked as an independent curator and consultant. He is the author of two historical novels, "The Duchess of Milan "and "Byzantium." He has written for "Esquire" and "Architectural Digest," and is a regular contributor to "Texas Monthly." He lives in Dallas with his television producer wife, Ellen, and their daughter, Arielle.
or
Not Currently Available for Direct Purchase