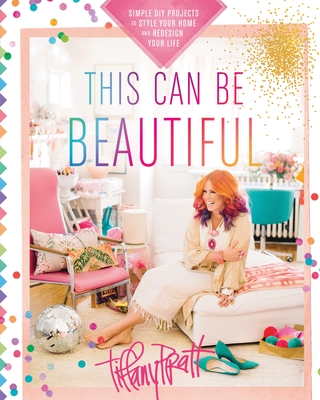 This Can Be Beautiful (Paperback)
Simple DIY Projects to Style Your Home and Redesign Your Life
Appetite by Random House, 9780449016930, 176pp.
Publication Date: October 11, 2016
* Individual store prices may vary.
Description
A visual and creative feast for anyone who wants to imagine and build a more beautiful life.


Stylist, designer, HGTV star and fairy godmother of glitter, Tiffany Pratt looks at the world as a blank canvas. With every choice she is presented or every decision she makes, she does it with one mantra in mind: that this--whatever "this" is--can be beautiful.
     Whether it's sprucing up some old wallpaper, rejuvenating your bedsheets, turning an accidental bleach stain into a multicolored sensation, or even hosting a party and re-thinking how you make lootbags, Tiffany's creative energy is fantastically contagious. In her much anticipated debut, Tiffany brings her vivacious attitude directly to readers, crafters, designers and DIY-ers. She'll guide you through over 45 creative and straightforward projects that will beautify your home, wardrobe, beauty routine, travel style and more. Whatever your taste, crafting skill, budget, or time, you'll find a project that inspires you to make Tiffany's visions your own.
    Break out the glitter, paintbrushes and colored duct tape! Let Tiffany empower you to create the styled life you want using what you already have. All it takes is a little effort, some love, and a bit of hot glue.
About the Author
As a multifaceted designer, TIFFANY PRATT makes the world a more beautiful place. Her goal is to elevate the everyday, and she can be found doing just that on numerous television shows for HGTV, on websites, and in print. This Can Be Beautiful is her first book. The author lives in Toronto, ON.
Praise For This Can Be Beautiful: Simple DIY Projects to Style Your Home and Redesign Your Life…
Praise for This Can Be Beautiful:
 • "An incredible crafting book, but closer to a happiness manifesto, Tiffany Pratt is one part stylist, one part life coach. Her vibrant enthusiasm paired with sun-filled images made me want to get glittering immediately." --Maxwell Ryan, co-founder of Apartment Therapy
 • "When Tiffany blasted onto the design scene, it came as no surprise to watch as her style captured hearts. The creative maven's energy and talents are undeniable. So go on: take a trip through Tiffany's terrific home and tee up to be tantalized. Alliteration? More like a-GLITTERation. Aye, sparkly lives start here!" --Colin + Justin, hosts of Cabin Pressure and resident judges of Game of Homes
 • "This Can Be Beautiful will transport you to a new world of color, sparkle, and crafting joy; a world that makes you see the possibilities to rejuvenate anything in your life. Tiffany's personable, can-do attitude jumps off the page, leaving you eager to get your hands dirty—and have a blast doing it!" --Will Taylor, Editor of Bright.bazaar's Dream Decor
 • "Everything Tiffany touches turns to rainbow glitter! After reading This Can Be Beautiful I have an over-powering urge to paint something… NOW." -- Elsie Larson, Founder of a Beautiful Mess
 • "This is the book you need to look at on a drab, rainy day. It's a smorgasbord of colors, fun, and simply great ideas you actually want to do. Honestly, can I just move into this book and live there? Please?" --Paul Lowe, Editor-in-chief of Sweet Paul Magazine
 • "This is my kind of crafting book. No rules, no rulers, and no fail. Tiffany makes me want to jump into my mom's old wedding dress, shut off my phone, and dunk my entire boring white house into a tub of tie-dye and sparkles… while eating gummy bears and chocolate." --Jillian Harris, Host of Love It or List It Vancouver